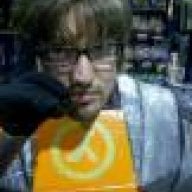 Active Member
OP
Newcomer
Joined

Mar 27, 2012
Messages

34
Trophies

0
Age

34
Location
XP
Country
So I've been running around my house experimenting with my DS' wifi, and after figuring out as much as I could, there are two things I cannot figure out:
1. I cannot connect to my second router, acting as a linked access point, with an error code of 51300. It's funny that a couple of times I'd power trip the router, the DS may connect to it, but immediately disconnect and continue with the same problem. HOWEVER, my main router which the other is seeding from, works just fine. This is odd to me since enabling the routers as access points is supposed to make them identical. So, am I not able to connect a DS onto an "access point"?
2. I cannot get most of my homebrew applications on the internet regardless of which router I'm using. When I say most, some exceptions would be internet browsers like Bunjalloo or DSOrganize. Even the WiFi Engine on my flash cart will search for games, but will not download anything (I don't use this anyway, although it's just another example.) NDSMail has the option to look for access points, but none of mine show up. Finally, I've used most of these apps a long time ago before, so I know they work. So, what's going on here? What am I missing?
I have a NDSLite running version 5.
Here is my
router's configuration
, just open in WordPad.