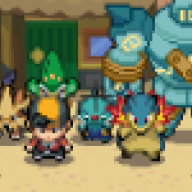 Active Member
OP
Newcomer
Joined

Aug 31, 2010
Messages

42
Trophies

0
Website
XP
Country
HGSS - Kris as Female Protagonist
​
Rom info:
Hack of:
Pokémon HeartGold and SoulSilver (USA)
Language:
English
Current Version:
2.0
Last Updated:
18th July, 2012
Summary
This is a simple hack of HGSS, where Lyra is replaced by Kris, the female protagonist introduced in Pokémon Crystal. There are a few minor glitches, but these are mostly negligible. All that is changed in this patch is the graphics, as well as any mention of 'Lyra' with 'Kris'.
Screenshots:
Videos:
Credits:
Tools used:
• Hex Workshop (hex editing many things)
• CrystalTile2 (graphics editing)
• PokeTEX (graphics editing)
• thenewpoketext (text editing)
• Tile Molester (graphics editing)
• PPRE (compiling rom)
• Kiwi (NDS file extractor)
• Pokémon DS/Pic Platinum (graphics editing)
• Windows 7 Paint (graphics editing)
• Windows XP Paint (retains palette of exported battle sprite image – allows me to copy and paste a new sprite into the game over the temporary sprites without worrying about palette screw-ups)
• Corel PaintShop Photo Pro X3 (compiling graphics to 8bpp)
• Xdelta (creating patch)
• DeSmuME (testing game on computer)
• Pokesav HGSS (editing save file for testing purposes)
Kimba616 - DeviantArt
– for making all the Kris sprites.
Link
S-Laughtur - DeviantArt
– for making the full-art Kris sprite in the intro.
Link
Someone
– a kind anon on 4chan sent me his work on a rom hack like this one, entitled 'Pokemon SpiritCrystal', from which I extracted Kris' backsprites from.
Bugs:
- The backsprite will temporarily revert to Lyra's palette when entering a Wild battle, though it corrects itself soon after. I don't quite know why, but it is exhibited in the video.
- Trainer Card sprite and the overworld sprite shown when naming your character is still Lyra. I don't know where the sprites are located, but they will be changed if I can find them.
- The large art mugshot in the intro is still Lyra, but this is because I haven't found one made for Kris. When one is made, I'll replace it.
Changelog:
- Version 2 - Most bugs fixed, added more supplemental sprites, and corrected compatibility with both versions.
- Version 1 - pretty much everything except that which is listed in the Bugs section
Downloads and Documentation:
Link to patch and xdelta
(used to patch the original rom)