I have a bunch of cards and wanted to know which card that drains the battery most and with what application , using a multimeter connected to the battery i was able to get maybe not perfect but very comparable measurements.
Most of the tests is done with the settings i normally use ,
First test is to see the consoles just being left in their menu without cards.

Brightness 2 on Lite and 4 on XL is what my eyes like most , so im using them in the tests.
Next is to see what happens with Gamecard and Flashcards in Slot1 , still in the menu.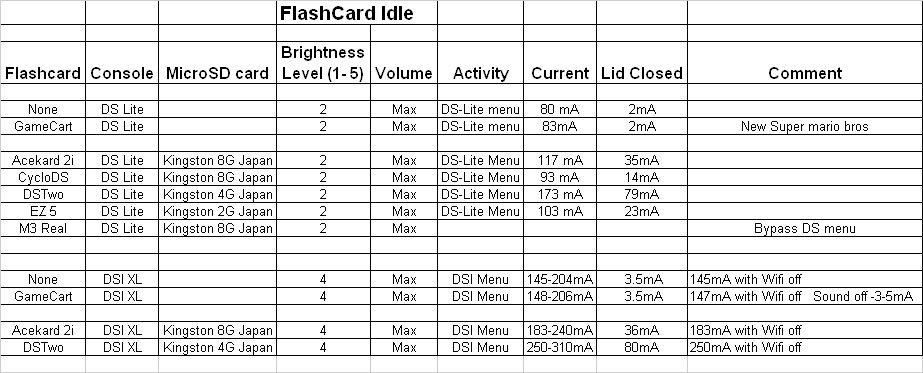 Gamecard eats nearly nothing and CycloDS is also very good , other cards did worse and DSTwo burns alot just doing nothing and also in standby.
This is what happen when playing a game and in the flashcards menues , also what happens in standby , sound off & after soft-reset in WiFi.

The ingamemenu with DSTwo is hard on the battery even with the lid is shut , soft-resetting with wifi going on is also a powertrap .Sound on or off is just a few mA.
And so a GBA game.

Not much to say , level up processorpower don´t do that much .
Multimedia then.

Wow , DSTwo does it better than AK2i .
Comparing a few MicroSDcards.

Not sure if im any wiser after this ? More tests needed .
And last some different tests with wifi , 3in1 and DSI-programs.

DSI programs seems to cut out slot1 , saving power !
Conclusion for this test :
* Flashcard consumes a lot of power even in standby when lid is shut
*Softreset in wifi-mode makes it a power trap
*Some flashcards consumes a lot of power just being inserted
*WiFi uses a lot too.
*Micro SD cards maybe differs ~10mA in some cases , not so much , more tests needed.
*Speakers uses very little power.
*DSI XL , big screens takes a lot of power
*BatteryLife in DS-Lite is 1000mAh & 1050mAh on DSI-XL , that means 10 hours of gaming with DS-Lite if the current is 100mA and the battery really containes that much .
*Im very pleased with my CycloDS card , works well and is easy on the battery , my favorite!
Left to test is cheat , real time guides and homebrewstuff etc. , maybe some other time.
Thats all !