This guide will help you getting free content from other regions on your own console.
1st of all, let's set up what you need:
A Playstation Vita
A computer with Internet connection
about one half our of your time
*optional* a back-up of you Memory card on your computer
Right, after you've got all you need let's start!(I recommend first reading the Q&A section first.)
Actual guide
Step 1. Go this website:
Create here a new account for Sony Entertainment Network for the region you want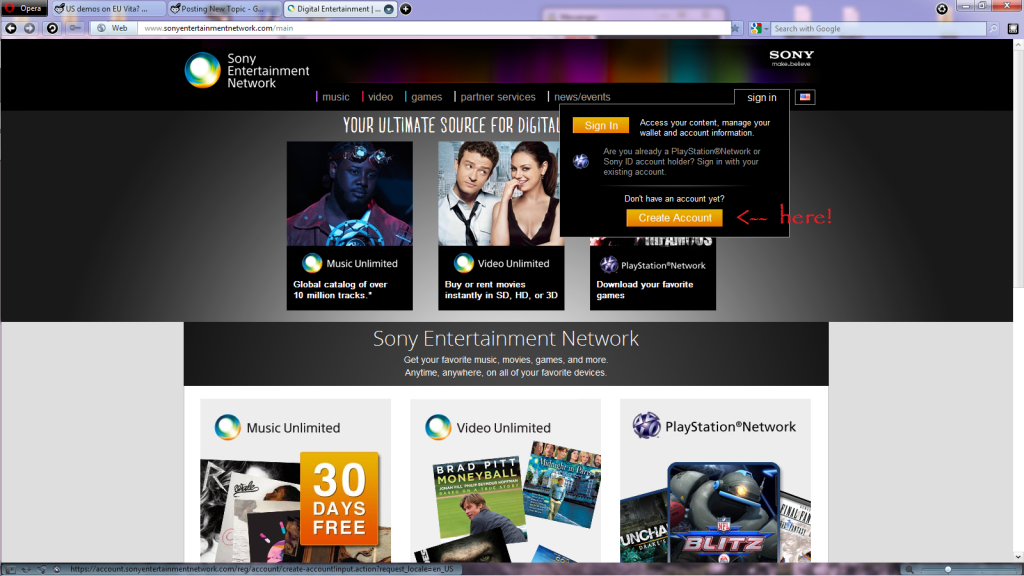 Step 2. go to your account and set it up for Playstation Network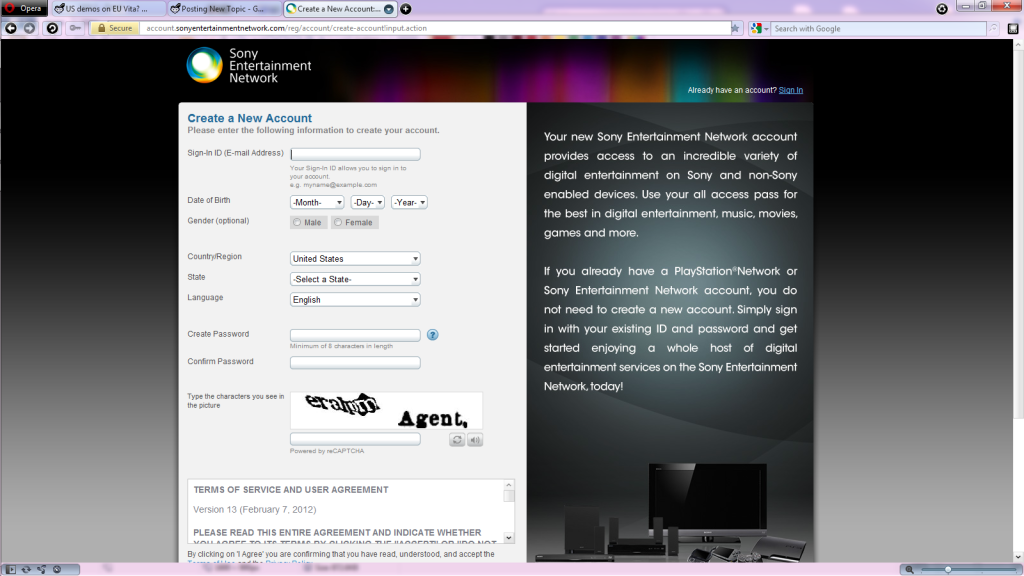 Step 3. Start up your PS Vita like you always do.
Step 4. Select the option bubble.
Step 5. Scroll down!
Step 6. Select format.
Step 7. Select Restore the PS Vita System
Step 8. Select restore.
Step 9. When it is asking for deactivating your current SEN account say yes!
Step 10. DO NOT FORMAT YOUR MEMORY CARD!
Step 11. Your Vita Should restart by now.
Step 12. Fellow everything and log in with your new account
Step 13. Watch the stupid and long introduction video! I've seen it for 6 times by now. *Plays on his 3DS*
Step 14. Go to the PSN store and download the FREE stuff only, paid stuff will not work on your Vita once you get back.(See Q&A if you have more questions on this subject.)
Want to stay in your new region because of exclusive content? Then your done I guess. Do you want your old account back on your PSV bacause you have many friends etc. come and fellow me!
Step 15. Re-fellow step 4 till step 8.
Step 16. DO NOT DEACTIVATE your SEN account this time.(I didn't because I don't want to have any risks)
Step 17. Everything goes on, again don't format your memory card
step 18. *restarting* Yay we may select time etc. again!
Step 19. Log in with your real SEN account.(The one you used before fellowing this guide)
Step 20. Throws a stone trough the window UUUUUUUURRRRRRRRRRRGGGGGGGG THIS INTRO SHIT AGAIN!
Step 21. Re-activate your old SEN account trough options.
Step 22. Done! Repeat this as many times as you like with as many regions as you want!
Fantastic work mate!
Question and Answer section
Is there any chance that my Vita is in danger?(Aka could this brick my Vita?)
No dangers are known.
You said I can't download any paid stuff from the region I want my demo's etc. from, why?
Okay there are a few answers here:
Your are completely switching from region, example you hate Europe and you want Japan as main region, you will not use your Europe account again since you don't have paid for anything. Then you can buy all you want since you will stay on the other region.
Your are switching for one download because Japan has a super duper awesome demo while America does not have this demo. After downloading the demo you switch back to your American account. I don't know the exact reason, but content you've bought with Yens won't work when you switch back to your US account.
Could Sony ban me from PSN?
They won't as far as I know.
Future plans for this guide:
1. Add pictures of the process.
2. Add more A&Q if needed+ any additional info.