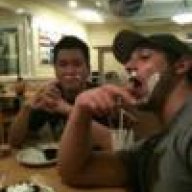 Joined

Mar 18, 2012
Messages

5
Trophies

0
XP
I checked ShopTemp for a reseller that sold Acekard 2i flashcarts. I had my friend buy one from V2watch.com. He had problems installnig AKAIO 1.8.9z, but 1.8.9 worked. Everything was fine until he clocked in 55 hours in Pokemon Soul Silver after about 3 weeks. It started freezing every few minutes randomly during battle or during wifi. These were not freezes caused by events. We tried using different versions of AKAIO. We tried 1.6 RC1, 1.6 RC2, and 1.5.1. All of them black-screened. 1.8.8 works. We couldn't find 1.4.1 to see if it would trigger an "unsupported device" error.

We compared his Acekard 2i to images of both fake and real Acekard 2i's. His matched the fake ones, not to mention it receiving a "Sorry, the Anti-Counterfeit code is not exsit! You bought a FAKE Acekard!" message from Acekard's AntiClone. I checked Acekard's reseller list on their web site, and most of them are overpriced at about $32, or their businesses have been shut down. HolidayCarts.com has absolutely no reviews but claims theirs come with an anti-clone sticker, which doesn't really matter considering our anti-clone sticker was fake anyway. zhuzhuchina seems legitimate from the sticky here, but it's not on ShopTemp's list or Acekard's list of resellers. I obviously not willing to try another one of ShopTemp's resellers despite the reviews considering what's already happened.

My questions are: Is there a way to fix this freezing? I read on another forum that Pokemon HG/SS start freezing after high time played, but that was only one source. Everybody else claims they can run Pokemon fine on their Acekard 2i's. It basically freezes, but the music keeps going on. If I can't do that, then where can I buy a real Acekard 2i for about $15? I trust personal responses and reviews here more than those on ShopTemp that aren't directed at anybody in particular, considering those reviews were all wrong. At this point, I'm looking at buying from HolidayCarts.com or zhuzhuchina while trying to figure out how v2watch.com handles refunds and replacements. Also, I'm curious as to what these Acekard 2i clones are actually clones of. I heard they're R4 clones labelled as Acekard 2i's.