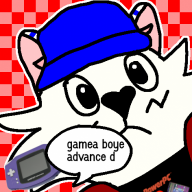 Stupid Retro Tech Cat
OP
Member
Joined

Jul 17, 2018
Messages

558
Trophies

0
Location
Website
XP
Country
Hello all!
I have been working on a new theme for the EZ-Flash Omega, and I call it Simple.
It is a nice rounded theme with both light and dark options, and allows for
way
more functionality on your Game Boy Advance!
Its features are:
PogoShell plugin support
A handful of plugins are included which means you can launch way more emulators and file types such as text documents, images, and music.
Save backup feature
When enabled, this will make up to five backups of the save file belonging to the ROM/file you are opening.
Better English translation
Just better in general
Cleaner sans-serif font

An option to hard reset the console when booting a GBA game without holding L.
I implemented this because I know some people like me like having the BIOS intro screen.
In short, it doesn't just look pretty, it gives your cartridge way more functionality as well!
Hope everyone likes it!
Latest version: v3.7
Latest version (DE): v1.3
Credits:
Kuwanger (PogoShell modifications)
Sasq (Creating PogoShell and a few plugins)
Veikkos (Save backup code and Goomba Color mods)
CoolHJ (Improving Chinese translation)
Moonlight (Various PogoShell plugins)
RibShark (Technical Assistance)
Greetz:
DarkFader
Let's Emu!
Krom
Simon Band
DEFINITIVE EDITION USERS:
DOWNLOAD SimpleDE.zip

FOR YOUR CARTRIDGE.
OTHERWISE DOWNLOAD Simple.zip

!
ALSO YOU MUST USE THE OFFICIAL KERNEL TO UPDATE THE FIRMWARE; THIS DOES NOT APPLY TO THE BASE OMEGA
READ THE INCLUDED TEXT DOCUMENT BEFORE ASKING QUESTIONS!
Screenshots:
Source:
https://github.com/Sterophonick/SimpleLight
Source (Definitive Edition):
https://github.com/Sterophonick/omega-de-kernel
Manual:
https://sterophonick.github.io/omegamanual.html
Skinning guide:
https://sterophonick.github.io/pages/projects/howtoskinsimple.html