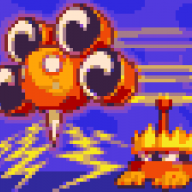 Joined

Jun 17, 2008
Messages

324
Trophies

1
Location
Website
XP
Country
Since I don't like waiting, I've cracked the Pokémon Conquest password algorithm and built a password generator. It should be pretty self-explanatory.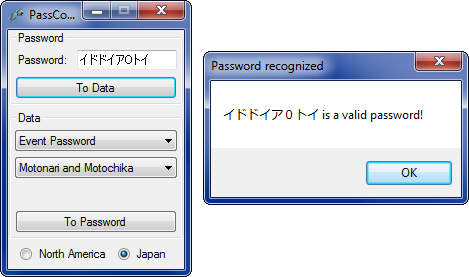 Take note, however. The official site says:
http://www.pokemonconquest.com/en-us/outline/pass said:

Note: Do not enter any unofficial passwords. If you enter such passwords, future attempts to enter correct passwords may not work.
They're not kidding. The thing is, you can only enter up to 64 passwords; after that, no more passwords can be used. You can change which "password slot" the password goes into by changing the Flag Number. I recommend you keep track of which password slots you have used if you plan on making your own passwords.
If you have a cheat device, you can use the following cheat to reset all your password slots:
Code:
::Reset Pokemon Passwords
:::Clears all 64 slots so you can use any Pokemon password again
920C4D82 00FF0200
B20C4D80 00000000
C0000000 0000001F
00000008 00C800C8
DC000000 00000004
D2000000 00000000
Of the 200 Pokémon available in Conquest, 62 cannot be obtained through the use of passwords. They are the following:
Aggron
Alakazam
Arceus
Armaldo
Articuno
Chandelure
Charizard
Charmeleon
Conkeldurr
Dewott
Dialga
Dragonair
Dragonite
Dusknoir
Emboar
Empoleon
Espeon
Flareon
Froslass
Gallade
Garchomp
Gardevoir
Gengar
Gigalith
Glaceon
Gothitelle
Groudon
Grovyle
Haxorus
Hydreigon
Infernape
Jolteon
Leafeon
Machamp
Metagross
Mewtwo
Mismagius
Monferno
Pignite
Prinplup
Raichu
Rayquaza
Registeel
Reshiram
Rhyperior
Samurott
Sceptile
Scizor
Serperior
Servine
Simipour
Simisage
Simisear
Snorlax
Spiritomb
Steelix
Terrakion
Umbreon
Vaporeon
Volcarona
Wigglytuff
Zekrom
When you boot up the program, you might notice that you can choose from Pokémon Password or Event Password. Pokémon Passwords will function like any other password you can find on the net. Event Passwords on the other hand, will unlock the Wi-Fi downloadable events. Some unlock postgame Special Episodes, some trigger special events when certain in-game conditions are met.
Download:
https://web.archive.org/web/20190314144451/https://s4.filetrip.net/p/778/191815-PokemonConquestPasswordGenerator112.zip
Requires .NET Framework 2.0.
Please don't submit passwords generated with this to sites such as GameFAQs.