Well, to many people have been asking me how to play PS1 games on the PSP, so i decided to make this. I won't be saying how to get an ISO from the PS1 CD, because you will be downloading it anyway.
I'm going to be using PSX2PSP V1.4.2 so you can download this from
here
Once you have downloaded that, extract it with either
WinRAR
or
7-Zip
(If you have already got one of them, which is highly likely you will have, you don't need to download)
When you have done, go into the folder and click on the PSX2PSP icon.
For this guide I'm going to be using theme mode.
Once your running it, click on
Convert Menu
(I will be doing Customize PBP after)
Now click on the three ... button where ISO/PBP File option is and find your PS1 game,
and then click on the
other
... button where Output PBP folder option is and choose where you want your EBOOT to go (Preferably on the PC, not your PSP)
You don't need to do anything with the Game title/Save title/Game ID/Save ID it will do it for you unless however you click
here
find your game that you are converting, and see if it needs a different Game ID
Plus, if you have a game that needs two or more discs, you can use Muti-boot feature! Just click the drop down box, and click 2/3/4/5 for the extra disc!
Some of you might get an error saying you need BASE.PBP, what you need to do is google it, and download it then put the file in your PSX2PSP folder.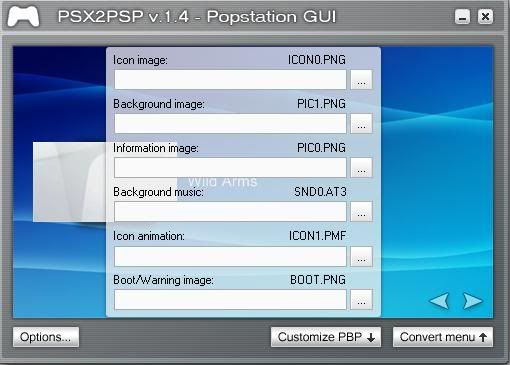 Now that your done with the Convert Menu, click on
Customize PBP
this is the fun bit
Icon image;
What the icon will look like when you are scrolling though your XMB games or if you haven't got a Icon ainmation
Background image;
self explainable really.
Imformation image;
You know when your looking at a game, and it's got the text over the background image? Yeah that's it.
Background music;
do i need to explain?
Icon animation;
animation when your highlighting the game
Boot/Warning image;
You don't really need this, but if you do i don't need to explain it.
You can either make them all yourself, or if you can't be bothered you would have to google for some imgs!
Once your done with all that, it should look something like this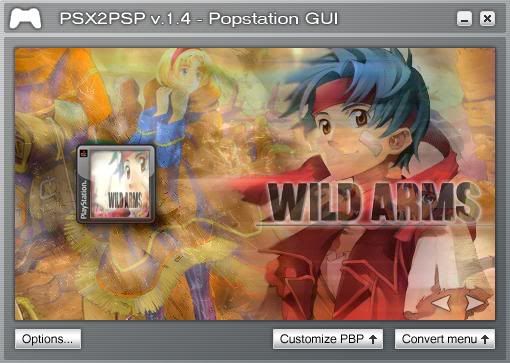 obviously it won't be Wild Arms, but if it is cool ;D
Now that you are done, click back onto the Convert Menu and click... Convert obviously

once your EBOOT has finished, you will get a folder with letters and numbers
you need to drag that to your GAME folder
Not your ISO folder.
If you have popsloader, your done! If you don't follow below
popsloader makes your games work! But its
not
an emulator.
You need to download it for your current firmware
Popsloader for M33
Popsloader for GEN
(
This bit is for GEN, M33 has a nice .exe to use
)
Once you downloaded it, go into SEPLUGINS folder, and copy both file and folder into your seplugins folder on your PSP.
Now, if you don't have a POPS.txt in your seplugins folder on your PSP. Open notepad and copy this into notepad
ms0:/seplugins/popsloader.prx 1
When you have click save, and name it POPS and save it in your seplugins folder.
Exit USB Mode and restart your PSP. (You don't need to enable it from the recovery menu, because it's already enabled!)
Then start your game, and a menu will come up.
DONT PRESS ANYTHING!
CLICK HERE
to find out what pops version you need to use!
And that's it! Your done!

If you have any questions, feel free to ask