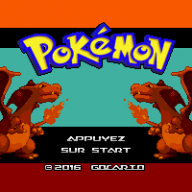 Joined

Sep 5, 2015
Messages

640
Trophies

0
Location
XP
Country
PHBankGB is a homebrew which allows to manage a local bank for Red/Blue/Yellow, and in the future will handle the japanese titles.
The source code will be available later, and the resources are available on
github
too.
What this Homebrew can do:
Work on o3ds and n3ds, with a CFW!
Navigate through the PC boxes of a save and the Bank boxes.
Display a more specific resume per Pokémon (like IVs/EVs).
Select one Pokémon (with stylus or buttons) and move it to another slot/box.
Autocomplete the Pokédex when importing Pokémon to a gamesave.
Export/Import the savedata directly to/from the game, without the need of external tools (/sav.dat).
Load/Save the bankdata to/from the bank, located in the SD card (/pk/bank/bankgb).
How to install it:
Just extract the archive at (to?) the root of your SD card.
It must contains:

The cia installer /cia/PHBankGB.cia
The data files /pk/[DataFiles].

Install /cia/PHBankGB.cia using FBI/BBM/etc.
Controls:
Movement​
DPad/CPad: Move the cursor inbox, change box, change pc/bank.
L/R: Change the current box.
LZ/RZ: Switch from PC to Bank and vice versa (can be done with Pad and/or stylus too).
Touchscreen:

Move the cursor inbox.
Drag & Drop Pokémon.
/!\ Don't move any Pokémon to a locked slot, it will be lost /!\

Start: Save and return to the title selector.
Selection​
A: Select Pokémon / Move Pokémon if one is already selected.
B: Cancel selection.
Todo List:
Implement the multiple selection...
Fix the touch screen locked slot bug.
Build a move database for the max PP.
When moving Pokémon with the DPad/A, switch the held Pokémon.
Add an export feature, to export to Gen VI.
Please report any bug you find.
Screenshots said:
Thanks to
@suloku
for all his work on the project.
Thanks to
@Kaphotics
,
@SciresM
(and #projectpokemon) for their help.
Thanks to @Chamber_ @Solo993 @BlueEmerald @Lake @Neslug @Pikachu25 @Ryta from
hax.iimarck.us
for the pokémon icons.
Thanks to
@xerpi
(and SF2D/SFIL's contributors) for the graphic library.
Thanks to
@smealum
and @yellows8 for the exploits.
Merci !
Disclaimer:
I'm not responsible if you lose or corrupt your save by using this homebrew. It mays contain bugs even within the normal intended use. Use it at your own risk.
ALWAYS MAKE A BACKUP! (use JKSM or SDF)
Alpha v1.0.1:
- Inital αlpha-release.
​
Alpha v1.0.1-a:
- Rewrite the drag and drop checks.
​
Alpha v1.0.1-b/c/d:
Alpha v1.0.2:
Alpha v1.0.2-a: