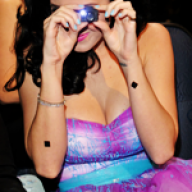 Joined

Sep 16, 2010
Messages

169
Trophies

0
Website
XP
Country
My sister is upset with me because I kind of accidently got something on her yellow Northface jacket. It's newspaper ink on the sleeves and both sides of the pockets. I did the same thing before on her black Northface. I got paint on the black one. They're both HyVent DT and I don't know how to remove the stains on both of them. And now my mom's mad at me. :-/ I was wondering if anyone could help figure it out? Ugh, life sucks when both your mom and sister are mad at you.

Anyways, I noticed that I have a really bad self-esteem problem. I hated middle school because people used to call be ugly either to my face or behind my back. Just because I didn't have the nicest clothes or I wasn't pretty enough. I always wonder what the heck did I do to piss them off... and that lead me to become depressed which led me to become suicidal at one point. I don't constantly think of death as often. But, now I can't trust anyone in fear that I'll be hurt by their words. I don't even have a single real friend since I dropped out. I used to think I was going to end up crazy. This makes me upset. But, I'm back in school which is good. I just don't know how to make friends or be sociable anymore.

Sorry for this emo post but I just had to get out somewhere.