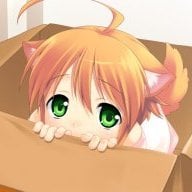 Are you a bully?
OP
Member
Joined

Apr 9, 2009
Messages

7,098
Trophies

3
Age

30
XP
Country
Haven't been on for two or so days, thanks to my router exploding.(EDIT: Not literally!) Annoyingly though, my Dad decided to plug his
computer
directly into the modem...and then used the internet for about half an hour over those two days. I asked once if I could get hooked up while he isn't doing anything, no dice. Asked and gave a few very good reasons, no dice. Sort of a lost cause, I knew he wouldn't let me use the internet no matter what. (he probably thought it was "good for me".)
Confusion control: I'm an online counselor, for those...all of you, who didn't know that.
I was mostly worried because I had a few low-priority counseling sessions and one high-priority one (I ask that people label, or get me to label, the need for the session in low, medium, or high priority...so I know when best to schedule things).
The low priorities were probably fine, but my high priority session was with a repeat person, so I knew she mostly schedules sessions when she really needs someone to talk to. Generally she never actually scheduled anything...just talked when I had spare time (generally if someone had a high-priority need for a counselor, i'd schedule a specific time they want or make time immediately), but she scheduled ahead of time because she couldn't talk for whatever reason until around then, which was a day later.
So I missed the session, and she never phoned me. I don't have her phone number either (which I usually require, just in case something bad happens). So now i'm really worried about her. I really hope she logs onto her MSN soon.
I wont jump to any conclusions but, due to what I know about her, I won't stop worrying until she gets on.