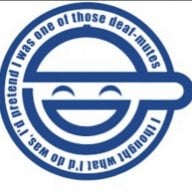 In Law we trust.
OP
Member
Joined

Dec 5, 2005
Messages

2,230
Trophies

1
Age

29
Location
Website
XP
Country
GBAtemp has grown leaps and bounds from when it was a small temporary ROM site. I recently checked out how many members have and saw that we have around 263,740 members now. A pretty large community if ya ask me, even if all of them aren't active. There is tons of conversation going on at any moment. Sure there's lots of conversation going on all over the forum, but GBAtemp also has a lot of knowledge held within it's servers. But it's every so often it is the case that intellectual posts are buried within the stench of ignorance.

Now I know that this has been talked about a lot, and shot down for good reasons, but lets try a different approach. Yes I am talking about a voting mechanism for posts. But the main difference between what I'm suggesting and from what others have said is that there would be no downvoting. Confused yet? Let me explain. There would only be upvoting so that the most helpful posts could be easier seen (with a arrange posts by rating option). This is similar to what Engadget has for their commenting system. It wouldn't be implemented in more opinionated areas of the forums like the "Other Discussions Area". And I think it would help out a great deal in situations like release threads where you have 40 pages of shit with informative comments lurking within them.

_________________________________________________________________________

I've got more things so say, but I'll just edit them in later.