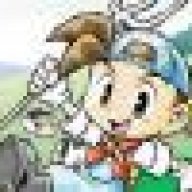 Joined

Apr 26, 2011
Messages

37
Trophies

0
Age

22
Website
XP
Country
Hey! I want to share my DSi story. it is 3 days now on my care and I'm not getting any fun with it anymore that I decided to remove it from my life.

I bought it 3 days ago. I also have a DS Lite so I have pretty much experience with R4 and stuff. I also bought an R4i for my DSi. I was really excited when my mother finally allowed me to have my 2nd DS, I was bugging her for like a year already.

I enjoy it on first day. the R4i already have firmware on it's 8gig memory card and feww good games are already installed. had fun with the camer and flipnote and the R4i games..
now comes the second day, I decided to check the Wi-Fi.. I wanna know what exactly the shop do and I want to try the internet browser. But it needs update. So I followed all instructions, updated my DSi and viola! I can now use the shop. I created an account in Club Nintendo, registered my DSi and got 160 Coins. I also ask my cousin to give me his DSi's pin and registered it to my account as well. now I have 320 Coins.. now I can have a 200 coins game downloaded from the Shop or DSi ware.. I thought.

It turns out that the coins I've got can only be used for online purchasing of different accessories and games for 3DS.. and it is not the actual coins I can use to buy games from the DSi ware. It is points instead, earned by purchasing Nintendo Cards or using Credit Card.. What? another expenses needed to enjoy this toy?

I gave it a rest.. decided to continue my adventures in Megaman in the R4i.. wait.. it's not working.. oh well maybe I need to, just restart my DSi and try again. but it keeps on giving me errors..

This time it needs online help.. I googled why I keep getting the problem.. and I learned that The update I made for my DSi will block every R4 I will try to open in it. and there's no chances I can downgrade my DSi back to it's factory status. I also need to by some type of new R4i that will work with the updated DSi.. another purchasing needed.

R.I.P R4i (March 23 2012 - March 24 2012)

wait.. I can still use the R4i on my DS Lite.. Yipee!! It's not a waste. Now I have 2 R4 for My DS Lite and I have nothing to play on my DSi.. no DSi Ware games and no original nintendo ds cart..

But I can still use my DSi as camera right? and play music? oh no.. I only have mp3 music files... Wait! R4i can play mp3 music on my DS Lite..looks like DS Lite saved the moment again!

Hayyyz.. DSi.... What else can go wrong!!!??

I know having an R4 is Illegal, but who wants to go to school with his DS and about 20 cartriedge on his pocket when he can just own a R4 with more than 20 games??

I'm starting to give up my DSi when I realize something.. I tried once to copy the Flipnote from the system to the SD Card.. then maybe I can also copy DSi Ware games from other SD Card to my DSi System.. Yey! Mario just got 1 up!! I quickly searched the net and see if I can actually put games on my SD Card and play it on my DSi.. it doesn't matter if I have to download some firmwares for it, as long as I can save mt DSi's uses...

But I can't.. sad. I learned that there's no way yet to play games on SD Card..

R.i.P DSi (March 23 2012 - March 25 2012)

Now all my free time will belong to my DS LIte again. DS Lite never disappoint me.

With 3 days experience with my DSi, I learned a lot..
- DSi is just a waste of money, Why don't you just buy a china made MP3 player with camera? or an iPod.. I think some of them now has Internet Browsers already.
- DSi might be a good sub when you play football.
- All my R4 piracy sin will be cleansed If I just gave the money I used to buy the DSi to the charity.
- Mother knows best.


---