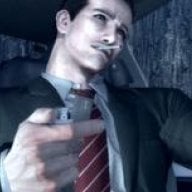 Well-Known Member
OP
Member
Joined

Oct 12, 2010
Messages

352
Trophies

0
Age

37
Website
XP
Country
Kirby's Epic Yarn​
Nintendo Wii​
Release Date: October 17th, 2010​
Players: 1-2​
I didn't grow up to be a huge Kirby fan, but remember the classics well. Kirby, the adorable little pink vacuum was a hit among many gamers for it's unique rough-and-tumble suck-em-all-up platforming. Fast forward to 2010, when Kirby's next big thing is string.
Now, this is my first review on the site, but not my first ever. I hope you like, cause I will probably do more.
Now, as the picture above would suggest, on the surface, this looks like a kiddie game. And on many levels it is, but there's nothing stopping adults from liking it. The story isn't like past Kirby's, in that King Dedede isn't the main villain, although is a boss in the game. In fact, A sorcerer named Yin-Yarn is running amok in Dream Land, turning everything, citizens included, into yarn. Kind of a strange way to begin a game, but tagged along by Prince Fluff, the duo set off into a storybook world ranging from toys to candy to fire and even ice.
GAMEPLAY
:
The gameplay is simplified enough that anyone can pick it up and go, even if you skip the delightful tutorial. By holding the Wiimote sideways to emulate the NES controller, Kirby can run, glide, and jump with ease. Each level brings new baddies, and new challenges, but the game tends to dumb down on difficulty, even preventing you from dying in order to save Patch Land from complete destruction. Lame to some, but it doesn't kill the game. Each world has a number of levels, each with it's own crystals, and hidden items. Unlock the badges at the end to unlock the next level and up to the boss level, rinse and repeat.
STORY:

Kirby games have never been very profound. It usually just follows the same tried and true Nintendo formula of "Happy Village + Bad Guy (ironically, Nintendo loves Sorcerers) + Hero + Epic quest = Game. Apparently, Yin-Yarn didn't like Kirby checking out his special tomato and sucked him into a magic sock around his waist. I know what you're thinking: someone was high as balls when they wrote this, and each world shows. I don't know what it is about Nintendo, they have these weird stories revolving around sorcery and food. Anyway, while not the masterpiece that only Hideo Kojima could've written, but it serves it's purpose.
GRAPHICS:
I was surprised, KEY was quite a beautiful game, even if everything was yarn and patchwork. The franchise, which had always been known for it's cuteness, retains it's signature art form, but this time, it's has some excellent character design, and some sweet backgrounds. For anyone that can remember Yoshi's Island, this is the same concept. Every world is a new treat for the eyes, and is really fun to take in. For those playing on an HDTV, even though the Wii doesn't output in 1080, it still looks great.
WHAT I HAD PROBLEMS WITH:

Some people might be turned off by how easy it is. For instance, if you get hit, you drop all your stars and crystals. But you don't die if you get hit after that. Normally in games, like Sonic for instance, if you get hit after losing all your rings, you die. But they really were quite benevolent in
Epic Yarn
. This isn't a bad thing though. The game can be breezed through in just about 3-4 hours, but there is plenty to go back through and unlock. Even the bosses weren't hard. Most are straightforward and need little explanation, so there won't be any frustration. Other than that, my only complaint was that it was too short. There were only 7 worlds to explore, and the majority of levels could be beaten in about 10 minutes. So, it's a great game, but wasn't a drive.
OVERALL:
Epic Yarn
is a great game for children and adults alike. Easy, and a very addictive addition to the series, shadowed alongside slick and enjoyable gameplay, makes this a superb choice. A lot of times I find it hard to justify a short game like this a buy, since there's not a huge amount of replay value. I didn't get a chance to try out co-op, but the option is there to play with two players, one as Kirby and the other as Prince Fluff. It's certainly worth a rent, but for those hardcore Kirby fans, this might just be a warranted buy.
FINAL JUDGMENT: 8.5/10.
We've seen Kirby in a bunch of DS games lately, but it's nice to see him return to consoles, and in such a high fashion. Definitely a very hyped game, and it came through with shining colors. It genuinely made me want to boot up my Wii and never let go, and very few games have done that lately.