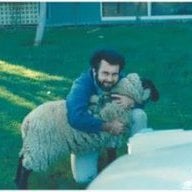 Joined

Feb 9, 2009
Messages

987
Trophies

0
Age

26
Location
XP
Country
This is my first "portable" gamecube, i had easter money so i figured i'd use it, still a work in progress, currently working on adding the bult-in controller and a handle to better the grip, it is fully functional but the gamecube itself still needs to be plugged in ,
will add a battery when i get some money
,Got money, got battery
It has a disk drive(duh)
too bulky with disk drive .wiikey,
it is fully fuctional and i added a cage around it i.
Fully functional adding case , controller handles for griping and holding the cage looked like crap.
Current state
Big picture)
More Pics are in my updates so look skip to the end to see the newest.
New Version:
Uploaded with
ImageShack.us
Added a VIdeo
I sound Like an idiot Okay? That is not how I really sound! P.s that position was killing my back so its only like 2 minutes
Edit: The rest of the pics are the OLD version, I left them here as a comparision.
Finally started the controller mod, i didnt think i would ever actually do it but i didnt have much homework today and the controller was staring at me. I had a "micro" game controller lying around which was perfect , being smaller than most other controllers. Any ways heres what it looks like wired up . It was VERY tidious and annoying but it works.
Here I organized it and put it all together with hot glue, tonight (well really now is tonight ) I will reinforce it with some JB-Weld and then tommorow tuck in the wires . After that i will research the batteries and relax a bit with some Pokemon colleseum
even more pics are here
[img=http://s4d4.turboimagehost.com/t1/11831674_2012-05-11_18-49-12.088.jpg]
[img=http://s4d4.turboimagehost.com/t1/11831675_2012-05-11_18-49-19.954.jpg]
[img=http://s4d4.turboimagehost.com/t1/11831676_2012-05-11_18-49-29.992.jpg]
[img=http://s4d4.turboimagehost.com/t1/11831677_2012-05-11_18-49-38.546.jpg]