GBAtemp Recommends! Racing Gears Advance
G.R. Issue #16 (GBA)

Its back! Sorry for the lateness. Welcome to the Sixteenth issue of GBAtemp Recommends! - a weekly magazine feature in which we share our favourite Game Boy Advance titles. The games we recommend may be top titles from the GBA library, a homebrew, or they may be sleeper hits that flew by the radar, but one thing's certain, they're all fantastic games that deserve your play time!
GBAtemp Recommends!
Racing Gears Advance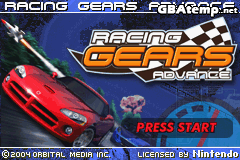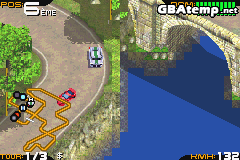 In my opinion the best handheld racer on the GBA. Viewed from a top down view, this is a pretty standard arcade combat racing title where you get to drive real licensed cars, racing against eight other drivers and drive through many real world locations.

The handling of the vehicles is spot on, its just how it should be and you never feel like the car is out of control like most other top down racers out there. The only mistakes that can be made are purely from the player themselves.

Graphically its a absolute treat. Amazing 2D work making it look almost like a 3D title. Vibrant colours and some really great detail in the backgrounds. The sound is everything you want from a racer, lively, tuneful and some very nice brrrrums brrruuums vrrrrroooooms.

This title is one of those "keepers", its challenging and always good for a quick race every now and again. The AI of the other drivers is good too, giving you a bit of a challenge and the added combat keeps the game interesting. Get four friends round with a GBA each and a cable and have some great fun racing and shooting the crap out of their cars.

There was to be a sequel for the DS but that seems to be vapourware as well as Orbital Media's Pirate Battles. I hope they come back one day to bring us some more joy.

Game Synopsis said:

Races from around the globe, set in 25 unique gigantic picturesque environments populated with hazards, jumps and shortcuts; 12 officially licensed supercars and 12 unique characters each with their own unique special abilities; up to four players can compete in a fast paced battle; win the race or collect track money to upgrade and customize your car with performance parts and tires; unlock eight offensive and defensive weapons to eliminate the competition with weapons like, homing missiles, flamethrowers and even cloaking technology; feature allows each characters' career to be saved; full digital sound with in-game audio tuner packed with 15 unique tracks created by Neil Voss of Tetrisphere fame.

Click for video footage:

1853 - Racing Gears Advance (Rising Sun)

1921 - Racing Gears Advance (TMR)

Genre:

Top Down Racer

Developer:

Orbital Media

Publisher:

Orbital Media (NA) / Zoo Digital (Europe)

Dump Date:

29/12/2004

ROM Size:

128 Mbits

If you enjoyed this weeks edition of GBAtemp Recommends! please leave a comment in the thread. This helps us monitor feedback and ensures we keep posting these magazine articles in the future.

View in G-Online

Game Profile at IGN

Official GBAtemp Recommends! Mini-Page & History

Discuss