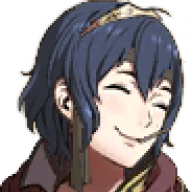 In All Her Gay Glory
OP
Member
Joined

Nov 20, 2015
Messages

459
Trophies

0
XP
Country
This is a patch that vastly expands the amount of same-sex marriages available in all versions of Fire Emblem: Fates, as well as adding new straight ones (especially for the poor Corrinsexuals). Due to the straight supports given to Scarlet, Flora, and Anna, the problem with getting all the child characters as M!Corrin should no longer be an issue.
Download the latest release
here.
I've started compiling the new support conversations in video format
here
.
• M!Corrin x Izana S
• Beruka x Reina C-S
• Ryoma x Scarlet C-S
• Midori/Anna C-A
• Elise/Shura C-A
• Felicia x Scarlet C-S
• Shura x Keaton C-S
• M!Corrin x Asugi S
• F!Corrin x Anna S
• Subaki x Azama S
• Caeldori x Mitama S
• Soleil x Nina S
• Felicia x Hana S
• Subaki x Hinata S
• Rhajat x Caeldori S
• Effie x Mozu S
• Rhajat x Mitama S
• Sophie x Velouria S
• Arthur x Benny S
• Asugi x Dwyer S
• Nina x F!Corrin S
• Shigure x M!Corrin S​
How Do I Install This?
Here
is the download link. There are three versions contained in the file, a HANS version, an NTR CFW version (the NTR CFW version only has the plugin for the North American Special Edition, NA Birthright, NA Conquest, JP Special Edition, EU Birthright, EU Conquest, and EU Special Edition at this time), and a Luma version. If you don't know what Luma or NTR CFW are chances are you're going to want to use the HANS version.
HANS

Go the
usual route
for installing a HANS romhack. Once you have the extracted romfs you can just paste these folders inside of it. Caveats: Use
this extractor
or else the Japanese file names will become corrupted, rendering them unusable, and you can skip step 6.
Someone was kind enough to whip up a video tutorial on how to install the hack via this method, so have a look if you're still confused!
NTR CFW
Pretty damn simple, just paste the fefatesSE and plugin folders at the root of the SD card and let NTR CFW do its thing.
Luma
If you have Luma installed you proooobably know how to do this.
Can I Get Kids?
The short answer is, ish. The game seems hard coded to disallow same-sex couples to have children, and fixing that goes beyond my skillset. However, using
this
admittedly complicated workaround
@DeathChaos25
came up with, you can indeed get kids, as you can see here with my baby Oboro!M!Kana. Alternatively, the hack comes with a "All Paralogues Unlocked" option, which as it sounds unlocks all the paralogues without regard to who is married. Children of same-sex couples won't show up as siblings this way, but if you have the NA Special Edition and access to NTR CFW, you can use Silent Hell's
cheat plugin
to remedy that!
​
Also, if you plan to use any of the Corrinsexual characters (Scarlet, Shura, Flora etc) as a parent to a unit, I'd recommend installing
this companion patch
as well.
Ever thought Flora deserved better?
This companion patch
makes Flora join much earlier in CQ and Rev, perfect if you planned to marry her to another character but didn't want to wait until very late-game.
And if you're like me and wanted to have the same-gender retainer join your avatar from the very beginning, you can use
my Felicia-Jakob swap patch
!