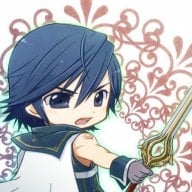 Joined

Apr 2, 2022
Messages

10
Trophies

0
Age

21
Location
XP
Country
Hello, people at GBAtemp! I'm Heritor, an amateur 3DSFE romhacker and creator of a rather ambitious proof-of-concept project (at least, it started that way) for Fire Emblem: Awakening, dubbed
Project Thabes.
(yeah, apparently we can edit the title screen now.)
This project aims to overhaul many of Awakening's issues while preserving the original, incredibly broken experience. It's not meant to be a rebalance, more of a "remix."
IT IS NOT DONE YET! Development will steadily continue for the time being.
It adds many things including...
Chapter remixing in an effort to change up the experience for people who have played Awakening before. Enemies now use class-accurate skills, for instance, and new enemies and chapter additions have been included across the main story.
Playable, recruitable Mustafa with working supports, death quotes, a custom critical cut-in, a barracks profile, and everything that makes a full character within Awakening.
Playable Phila with all of the same features as Mustafa, and using her unused critical cut-in.
Fixes to dialogue, plot holes, and minor additions of info that was given post-Awakening, such as information from the Valentian Accordion and other sources. (hence the project name.)
New supports for Robin-only characters and the Spotpass characters.
Additions of new items and weapons to the game including siege tomes, light tomes, the wind edge line of swords, magical beaststones and dragonstones, and others.
Remixes of existing items to help provide a wider diversity of options and promote different builds.
"""balancing""" of characters and classes with the goal of increasing class diversity and shrinking the viability gap, though it's not intended to be extremely balanced.
Inheritable Lord, Conqueror and Dancer classes
New S-Support options for Chrom
Removal of Ambush Reinforcements for higher difficulties.
Spotpass paralogues are unlocked from the start, hooray for Citra players! No need to connect to the internet to unlock them.
many, MANY other changes.
Project Thabes started as me attempting to ruin Awakening as much as possible in order to learn 3DS Fire Emblem romhacking, but it ended up becoming something way more than that. L498 and I have worked on this a bunch to create something we think is incredibly cool, and we hope it inspires others to try doing this too, because it's really not as hard as you think.
If you're curious about every change made to the hack, I've documented it
here.
(it is a little outdated atm.) Current version is 0.9.7. Patch notes for 0.9.7 in particular are
here
DOWNLOAD LINK
[Patch using Luma LFS using a romfs folder, or Citra's mod directory using the same.]
If you want to join the discord where I post semi-frequent mini-patches in between major updates on discord only, screenshots of what we're working on, or if you want to give feedback there instead of this thread,
you can join it here.
We also try to help people who want to learn how to do this stuff themselves.
General screenshots