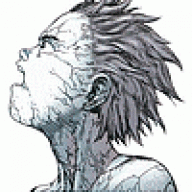 Well-Known Member
OP
Member
Joined

Oct 29, 2008
Messages

1,714
Trophies

1
Age

43
XP
Country
DosboxWii .conf and .map Collection​
Notice:
Since the new Dosbox Wii release with Dynrec support, some of these .conf files are now obsolete. Many games can run much better with
core=dynamic
and increased cycles. I will eventually update the ones in the collection.
Purpose
:
Launch dosbox games through Wiiflow, with optimized settings for each game (to achieve the best possible performance)

Key mappings for Wiimote and (where needed) Classic Controller, so that you won't even need an usb keyboard.
Requirements
:
Wiiflow or Wiiflow Lite (for banners)
DosboxWii .conf plugin for Wiiflow


--------------------------------------------------------------------------------------

Download game files:
Single game download
All-in-one package:
Download the pack
Installation
:
Extract and copy the files to the root of your Hard Disk.
If you want to use an SD card, change usb:/ to sd:/ in the mount path at the end of the conf files (eg mount c
sd:/
dosbox/games)
Put your original games data in the dosbox/games/subfolders.
- Optional: -
if you're using Wiiflow Lite:
install
Banners
with key mappings and info for each game.
If music or sfx doesn't work
make sure to run the games
setup
in dos and set everything to
Soundblaster
leaving the default values. Note: some games need to have IRQ=5, others IRQ=7. To launch setups open the desired game .conf file with a text editor, scroll down to the bottom and change the name of the executable file with the name of the setup file (generally install.exe or setup.exe)
Updates:
18/04/20
- Added Alien Rampage
- Added Blackthorne
- Added Stunts
13/04/20
- Added Dangerous Dave
- Added Elfland
- Added Gods
28/10/19
- Updated Ultima VI conf, map and banner.
Changes:
Game and sound are now playing at perfect speed.
Remapped the "party mode" to the B button on the Wii remote. This way you're now able to use "-" on Classic Controller to "pass turns". This is needed in some situations (e.g. you need to wait for a shop to open, or a sleeping NPC to wake up, etc.). Besides, it solves another issue: when you accessed inventory in solo mode, you couldn't return to party mode without using the virtual keyboard.
23/10/19
- Added Ultima VI - The False Prophet
13/10/19
- Added: Bio Menace, Epic Pinball, Jazz Jackrabbit, Moonstone, Pinball Fantasies, Skyroads, Wolfenstein 3d, Zool.
- Simplified installation. Simply copy the files to your hd and put your original games data in the dosbox/games/subfolder.
25/08/18
- Added Monster Bash
08/08/18
- Added Zeliard. Thanks @XDel -update: new map file with added keys
26/05/18
- Added Pinball Dreams Deluxe, Superfrog and Soccer Kid
06/05/2018
- Added Turrican 2 pack (see spoiler below) and cover.
05/05/2018
- Updated Another World .map file. Now pressing the minus button you can access the Level codes screen. Updated its cover too with better spine proportions.
03/05/2018
- Added an All-in-one pack for faster installation and a pack with 3D covers
02/05/2018
- Updated Flashback .conf and .map. Now it's fully playable
30/03/2018
- Added Commander Keen 5
28/03/2018
-Added pictures for each game control mappings
26/03/2018
-Added Alley Cat, Dangerous Dave 2 and Prehistorik 2
24/03/2018
-Added Commander Keen 4 and 6
20/12/2017
-All links are working again
19/02/2014
- Added some more oldies: Bushido, Battle Chess, Dark Forces, Decathlon, Donkey. Thanks to Pepois!
- Figured an easier way to swich to an SD installation. You just have to change C: to D: at the bottom of each .conf file, keeping the same folder structure.
06/03/2013
- Updated all conf files with the exit command at the end to close the game through its own menu and return to Wiiflow. Updated instructions and added credits.
06/02/2013
- Update for Alone in the Dark (performance improvement) and Prince of Persia (fixed game saving/loading, see game notes).
- Updated Ultima 8 notes as well with suggested in-game options for a small performance boost.
05/27/2013
- Added instructions for sound not working, all files updated
Credits:
Many, many thanks to the team behind Wiiflow, Fledge68 for Wiiflow Lite and to Sion_Zaphod for the Dosbox .conf plugin!