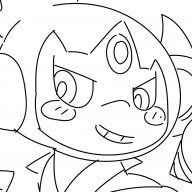 Well-Known Member
OP
Member
Joined

Nov 2, 2014
Messages

364
Trophies

0
XP
Country
First of all, awhile back I looked into BCSTM and BCWAV format, mostly for looping purposes. I learned how they differed and such and how channels were stored.
My Documentation:
http://pastebin.com/1mER2KkD
What I have learned is that in BCSTMs with multiple streams do not have a stream count. Streams are called by the 3ds, and are actually just more channels in the file.
Exporting Streams from BCSTMs to .wavs:
Things you'll need:
-A BCSTM to pull streams from (duh)
-Foobar and the VGMStream plugin, or Every File Explorer
-Latest Audacity
1. Pick any BCSTM you want to pull streams from.
2. Open it in foobar and right click>convert>quick convert,
or Open it in Every file Explorer and Go to File>Save As... and choose .wav
3. Export as .wav
4. Open the .wav in Audacity
5. All of the channels will just be sitting there, so feel free to pluck out what you need according to what stream you want to listen to.
-Bonus: You can extract Wii U BFSTM streams the same way!
Creating BCSTMs with more than 2 channels from .wavs:
Things you'll need:
-Latest Audacity
-Every File Explorer (Just until I can find something else that can loop and export more than 2 channels)
1. Open up Audacity
2. Go to Edit>Preferences>Import/Export and check "Use custom mix"
3. Have all of the .wavs you want to import
4. Drag them into audacity in order (If you're replacing a file in a rom, use the same order as the original)
5. When you have that done go to File>Export Audio
6. Save as .wav, it'll prompt you with the list of channels in order.
7. Once it's saved open Every File Explorer
8. Go to File>New from File>Nintendo 3DS Plugin>CTR Stream (CSTM) and open your .wav
9. Go to File>Save and save your new BCSTM
I don't know how useful this would be to others, but I know MK7 uses multiple streams for it's BCSTMs so there's that.