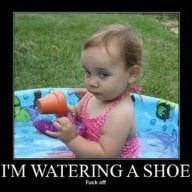 Joined

Jul 29, 2006
Messages

1,024
Trophies

0
Location
XP
Country
Pension day today, so the wife came back from shopping with a nice surprise for me - "Guitar Hero III" in a big box with a guitar.

Imagine my surprise when I took it out of the box only to discover it had NO STRINGS !!!! Added to that the funny looking disk that came with it (a "Learn to play in 5 easy lessons" type thing I believe) made an absolutely terrible racket when placed on my old Grundig turntable, and was completely unintelligible at either 33.3 or 45 rpm. Surely it can't be a 78 ? Those things went out of style eons ago!

Then I spotted a section on the box that told me that I would have to battle against a chap called Tom Morello and another chap named "Slash" apparently (honestly, these modern parents and the crazy names they choose). Well of course wifey went off her rocker - she wasn't prepared for guests.

"Well I hope Mr Slash likes tea or Dandelion & Burdock - It's all we have in"
"I haven't got any iced buns or french fancies in!"
"I shall have to run the hoover round quickly"
"What time does it say they are coming ?"

I checked the box, only to find they had omitted that particular piece of information. So anyhoo - wifey rushes round with the hoover, scrubs the hearth, dusts the mantlepiece and gets out the best china while yours truly here trudges off to Lidl's to get some sticky buns. Once home again, I dressed in my sunday best and sat in the armchair to await my famous (?) guests' arrival.

Well, an hour passed.

Then two.

It's now 10pm and way past our bedtime, and the lazy fops still haven't shown up. I guess it just goes to show you can't trust these damn minstrels! My ulcer's playing up now and I've had the last of my Gaviscon and I really don't feel up to the long walk to Mr Patel's to get myself a fresh bottle - it's been that kind of day.

Tomorrow I'm going to accompany wifey back to the store where she bought that useless article. Once I locate the sales assistant who sold her a guitar with no strings and a faulty LP I will give him a clip round the ear with it to teach him a lesson. I shall also be contacting Esther Rantzen - the public have a right to know about these parasites that prey on the elderly. A good stint of national service will sort these fellows out I can tell you.

Anyway, the "herbal remedy" my grandson brought round seems to have made me very sleepy now.... so once the room stops spinning I shall toddle off to bed with my hotty botty and a nice cup of Horlicks.

Toodle pip, young 'uns.