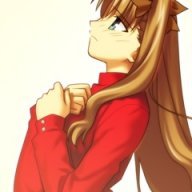 Joined

Dec 18, 2008
Messages

330
Trophies

0
Age

32
Website
XP
Country
I know there are a other Nostalgia topics around and maybe this isn't the best section, however I couldn't find any topic about this problem so I made a new one. My apologies in advance.

Anyways, I'm on an R4, latest firmware (last T_T ) and YSMenu (latest version). Don't tell me to get a new card because I know, R4 is not the best around but mine is the original one bought 3 years ago and it is still working fine for me... so I'd rather not change it unless forced.

Anyways, during the game, while exiting from the Tower of Babel with Eddie (after saving the girl), after the speech with Evan on the ship, he says "Let's go to London" and then the screens go black and nothing happens.

Since the previous save point is up in the tower, I've tested this other 4 times (after that I just wanted to gouge my eyes off) and they all froze. Is it normal for R4? Is there a fix for this? Do other people with R4 experience the same issue?
If there is no current fix to this, I thought about, maybe, try to load my save game from a Japanese version of the game to get past that point, then reload everything in English.. but I don't know if the two save types support each other or not, or if the Japanese game freezes there too or not...

So, any help in this please?