Emulate the Planet!
OP
Former Staff
Joined

Jan 3, 2008
Messages

10,578
Trophies

0
Age

46
Location
Website
XP
Country
Welcome to the 25th issue of the GBAtemp Recommends Revival Project! This project is a weekly feature where we share our favorite games and applications with you. The things we recommend may be "old school" titles, a Homebrew, a ROM hack, sleeper hits, an application, etc, but one thing's for certain, we think they are fantastic and deserve your attention!
GBAtemp Recommends!
Leisure Suit Larry in the Land of the Lounge Lizards​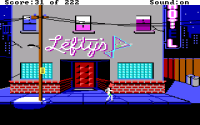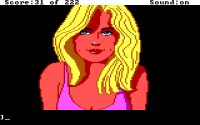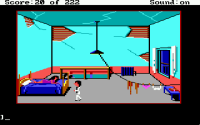 If you were under 18 in the late 80s, there was something sneaky about logging some time with Leisure Suit Larry in the Land of the Lounge Lizards. Looking back, there were other taboo things to occupy our young minds, yet for some reason LSL1 was the one thing everyone wanted to experience.

Released by Sierra in 1987, this 16 color EGA graphical game used the Adventure Game Interpreter (AGI) engine, the same engine used for King's Quest: Quest for the Crown. The game is played by moving around the city and physically typing commands to interact with objects (open door, look, etc). The story follows our hero, Larry Laffer, as he searches for love in a fictional city called Lost Wages. Players initially set out with 2 real hours to complete the game, a time limit which can be stopped by having relations with a prostitute. The adult themes continue as Larry must collect items to woo women across settings like a bar, hotel casino, a late night convenience store, and more. Travel between locations was tackled by introducing a taxi service, which must be paid for with money obtained by gambling at the casino. If the player fails to pay the main character may be mugged or hit by oncoming traffic. As 40 yr old Larry quests to lose his virginity across Lost Wages, he learns more about women, culminating with Eve, a bathing beauty that is his final goal.

LSL1 sold over 250,000 copies and was named "Best Fantasy, Role Playing or Adventure Game of 1987", despite its slow start due to resellers refusing to stock an adult themed game. It was estimated by the creator, Al Lowe, that pirated copies may have outnumbered retail copies by 6-to-1. The unexpected success of the game allowed for a VGA graphical remake to be released in 1991 and inspired 6 direct sequels with Al Lowe's involvement.

LSL1 is a classic point-and-click adventure game and it captures a unique bit of gaming history. Released on a variety of computer systems, the EGA DOS version of the game can be enjoyed on the DS thanks to ScummVMDS' D-build. If you are mature enough to handle a rather silly, yet classically fun adult themed game (with no real nudity), fire it up and give it a play. Afterwards let us discuss this game by comparing it to adult themed games released in 2012.

Genre:
Point-and-Click Adventure
Type:
Retail Release
Release Date:
1987
Published by:
Sierra On-Line
System:
PC
If you enjoyed this weeks edition of GBAtemp Recommends! please leave a comment in the thread. This helps us monitor feedback and ensures we keep posting these articles in the future.
Official GBAtemp Recommends! Mini-Page & History