DS Link 2.31 Software and kernel
Changes? No idea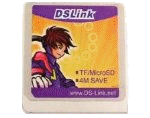 A kernel and PC software update for the DSLink slot-1 card. Changes are unknown at this time. Installation instructions and download below.
[title:Installation Instructions]Kernel update procedure
1.Copy_DSLINK_.NDS file to TF card root directory.
2.Enter the DSLink interface to run this NDS file then appears the Kernel update interface for update.User can also enter the Kernel update program by long pressing START key to start the NDS.
3.Press SELECT key in the update interface to begin the update. There will be progress notice when updating,when it appears the notice to turn off the power that means update successfully.
Note:If any error happened when updating, user can follow the instruction or restart to update by long pressing START key again. User can backup _DSLINK.NDS to any GBA backup card that can run NDS file to update DSLink.

Download kernel

Download PC software

Source