Joined

Dec 10, 2009
Messages

2,845
Trophies

1
Location
Website
XP
Country
CICADA IS NO LONGER UPDATED. IF YOU WISH TO TAKE OVER, PLEASE CONTACT ME

Cicada Installer Utility v1.6.4.3
Update
Moved from
http://gbatemp.net/t259822-cicada-installer-utility
.
I Think this would be a better place for this. If a mod would lock the old thread or move the old thread and lock this one, it would be greatly appreciated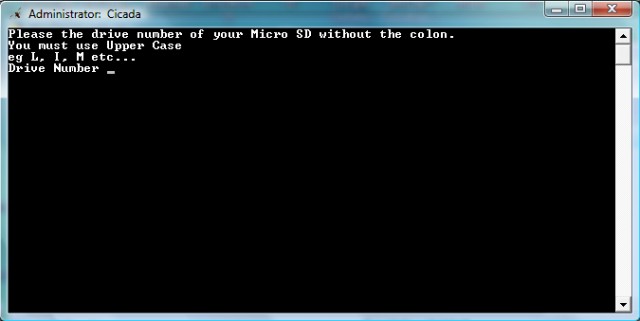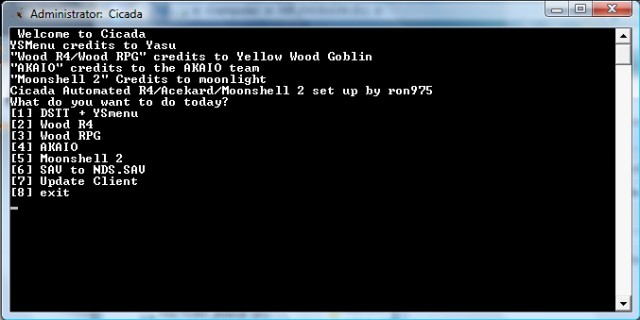 This installs either
AKAIO 1.8.1
WoodR4 1.15
Wood RPG 1.15
Moonshell 2.10 Child Zwai edition
YSMenu for DSTT
It also has a sav - nds.sav option.
WARNING Every time you use the sav-nds.sav option it adds a .nds. to it, Wood installs include this.
Fixed in version 1.6.3
It's much simpler than Xenon++ DS ENV Maker, but this is written in batch instead and i'm guessing Xenon's has more firmwares? I've never tried it before.
I coded it myself, had to tweak it a little, please post bug reports.
This uses wget and UnRAR
Thanks!
Proper GUI as soon as I have time
This won't overwrite anything except for the installed files, so you can also use this to update. [/p]
Change log v1.6.2 said:

• Fixed small grammatical error

• Fixed SAV - NDS.SAV code

• Fixed update.exe

Change log v1.6.3 said:

• ReFixed SAV - NDS.SAV code No longer adds an extra .nds.

Change log v1.6.4

• Properly Refixed SAV - NDS.SAV code. No more Duplicate file errors.

• Fixed "AKAIO Team" Now says "Normmatt and Smiths"
So go ahead and use that update option, or download the full package if you don't have it yet.

Download
w00t it looks like front page material now!