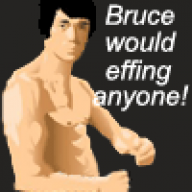 Joined

Jul 29, 2007
Messages

61
Trophies

0
Location
Website
XP
Country
Hello Everyone,

I've searched the forums high and low for the answer to my problem, but alas, tis not to be.

If the answer is out there please save me the "use the search function" spiel or other unnecessary attitudinal idiocy (if attitudinal is not a word, then I vote it in as one). I appreciate and respect smart, helpful people and am more than happy to return the respect I'm given. I assume the answer to my problem is staring me right in the face, but I don't see it. I digress…

Here's my setup:
R4DS
Firmware 1.14
DS Lite (no mods)
2GB Kingston microSD (Japan)

Here's my situation:
Castlevania Dawn of Sorrow isn't retaining/reading/whatever my *.SAV file. I'm able to create a new save slot at the start of the game. I can also save at the first save room without incident. Once I shut the DS off and run the game again it's like I've never played it before. Back to square one.

FYI: I used to have an M3 Simply and encountered this same issue.

Is anyone is familiar with this problem? I thank you for your time.