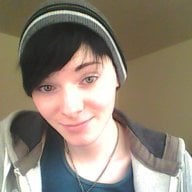 Well-Known Member
OP
Member
...you're not quite sure what your name is anymore.
...as soon as you come out as a transguy, you start buying dresses for when you're a drag queen.
...you go to a gay club, and no one knows if you're a gay male, or a gay female. (Okay, so this one actually happens to me a lot.)
...a church group tries to approach you and all you can think is, "I'm sorry but your religion doesn't believe in me."
...you are glad you are bisexual, because at least people won't be confused about what you like.
...athletic fit T-shirts are your enemy.
...you're in a same-sex relationship with someone of a different gender. (This is true for me.)
...you can share boxers with your partner as you are both the same size.
...you default to "human" when someone asks who/what you are in hopes it educates them.
...when you're introducing yourself to friends of relatives (who don't know), you forget your old name.
...Youtube keeps directing you to the Trans-Siberian Orchestra.
...you go to the store to buy aftershave and tampons, both for you.
...you not only want to go through puberty a second time, but you're willing to go through seeing a therapist for months in order to do so.
...you're in such deep stealth you consistantly bitch about periods you don't even have.
...you dress in so many layers you start feeling like a .PSD file.
...you ask a store employee to refill the toilet paper in the restroom, and they ask, "Which one?"
...any form that asks you to identify your gender stops you dead in your tracks.
...the phrase, 'duct tape can fix anything' couldn't be more true.
...there are people who expect you to undergo major surgery before they will respect who you are.
...someone tried to insult you by tell you you look like a boy/girl, but you are flattered because you were told you look like a boy/girl.
Just felt like throwing these out here.
Try to think up some more!