This is Sword Art Online: Infinity Moment's translation project.
The patch hasn't been released yet and this post will be updated when it has. Do not ask for a release date, you will be ignored and possibly trolled. This also applies to partial/menu patches.​
​
We are also aware that there is a blog containing a translated story script. We have however decided not to use it.​
​
We're (...) waiting to see if [Sword Art Online - Hollow Fragment's] translation is better than the Asian English release got, as you can see in the screenshots

above

, it's not very good. If the translation is good, then we will see if we can extract the texts from Hollow Fragment and port it over. If not, then we will likely continue making our own translation. A port would be much faster, if it is possible to do, which is why I would prefer to use that.
​
​
What is "
Sword Art Online
"?
Sword Art Online AKA SAO, is a Japanese light novel series written by Reki Kawahara. The series takes place in the near-future and focuses on various virtual reality MMORPG worlds. The world of SAO takes the form of a giant floating castle called Aincrad, with 100 floors in it. Each floor has a medieval-themed setting and a dungeon with a boss, which has to be defeated before players can advance to the next higher floor. Like most RPGs, it implements a level-based system. However, the game is altered in a manner in which players are unable to log out, and if players die in-game, their real life body dies too.
Source: Wikipedia
Sword Art Online: Infinity Moment follows an alternate storyline,
in which a glitch causes Kirito and the other players to remain in Sword Art Online despite defeating Heathcliff,
and players from other VMMORPGs such as Leafa and Sinon get sucked into the game themselves.
The game was released in both regular and limited edition box sets on March 14, 2013.

Source: Wikipedia
Warning: Most of the screenshots have a higher quality due to PPSSPP. They are also quite outdated. The following pictures have been resized to 480p resolution, you can find them in their native resolution
here
. There are more pictures in the link.
This pic is outdated. The - Infinity Moments - part has already been corrected.
Warning: The following percentages are estimates and in no way exact. They will be updated when I (Kalker3) or StorMyu feel doing so.
Menus: 90%
Items, skills and descriptions have been translated. IIRC, the last 10% are minor stuff like fixing the guild menu and formatting the emails.
Story: 2%
Images: 1%
Movies: 0% (Translated, not yet subbed)
People working on this project:
Translators:
FuyuNoTsuki
Sporky McForkinspoon
Tsuna
Unstoppable Smash Attack
Programmers:
Omarrrio
Stardrad Yin
StorMyu
Editors:
Kalker3
XaneTenshi
Graphics:
iSupercell
Special Thanks To:
Romsstar
Feel free to send Sporky Mcforkinspoon or StorMyu a PM (Personal Message) if you think you can contribute.
Hey guys, im creating this thread for those who are big fans and for those who didnt know about this game of SAO, this game is not released yet, but im just going to dive and from this point hope someone start thinking of making a translation (
im just saying to start thinking to make, not to make!
it would be very appreciated)
Namco Bandai's upcoming PSP conversion of Sword Art Onlinefollows a story different from the newly launched anime.
In the game version, a mysterious system error occurs in Aincrad, the 100-floor world of the in-game MMO 'Sword Art Online'. The game becomes realized on the 75th floor of Aincrad and beyond. Players are tasked with climbing the next 25 stories. Just like the anime, there are bosses on each floor, but there are also mobs over level 90. It is unclear at what level players start the game.
You'll play as Kirito, the main character of the anime, who can be equipped with a number of weapons, including: a one-handed sword, dual swords, dual axes, a dagger, or a rapier. Each weapon will have its own Sword Skills. In addition to skills which appeared in the anime, there will also be skills outside battle. New, unique skills will appear by continuing the "Sword Arts School."
Release date: March 14, 2013
Trailers:
Screenshots: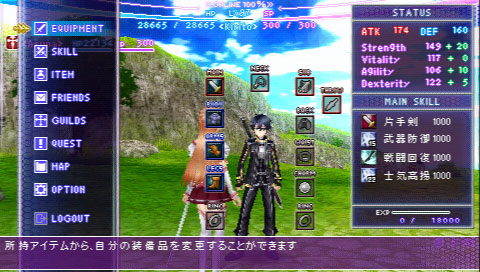 If anyone is fan too i hope someone start thinking to translate this, for me, and for all those who like this awesome anime ^^
Official Game Website:
http://swordart-online-game.channel.or.jp/