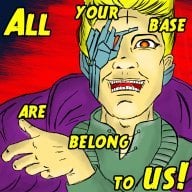 Well-Known Member
OP
Member
Joined

Apr 29, 2014
Messages

522
Trophies

1
Age

42
Website
XP
Country
03.31.2021 UPDATE : PATCH RELEASED!
After months of hacking and effort (and another month of beta testing), the English translation for "Zangeki No Reginleiv" for Wii is finally complete!
It is my pride to present you with this collaborative work between
@Kaiser_Gummi
and me.
I'd like to take the opportunity to thank
@Lazlo52
and
@MaeseJesus
for their continuous support in the beta testing phase: this project would have taken a lot more time and be quite less polished without them.
You can download the patch at the following address, and see a little trailer I've put together on Youtube here:
Trailer:
English patch download link:
https://www.romhacking.net/translations/6025/
Please be warned that the videos (which were quite too heavy to fit into Romhacking.net) have to be downloaded separately (every link is provided in the README file, but I've put them below anyway), and if you happen to like our work, please leave a comment on Romhacking!
Translated videos:
https://drive.google.com/file/d/1VC2a4zx0n_DsWqZkwWXRmzTqc6F93pmP/view?usp=sharing
Wii Motion Plus videos:
https://drive.google.com/file/d/1xPyA_27okGlXOGR1KOLXNWah-4csbHwL/view?usp=sharing
Yours truly.

--- old post ---
12.15.2020
: Pictures updated after
@Kaiser_Gummi
and I decided to collaborate (see my post about that). Please keep in mind that the game is not totally translated yet, and the pictures are not final.
Hello everybody, this is me, Brand Newman, the French guy who recently started to translate Wii Japanese exclusives in English / Engrish !
Welcome to my new English translation project, once again for Wii.
This is my fourth Riivolution project actually, after having translated Earth Seeker, Ikenie No Yoru, and Takt of Magic, which patches you can download at the following adresses :
Earth Seeker :
https://gbatemp.net/threads/riivolution-patch-earth-seeker-english-translation-for-wii-100.555772/
Ikenie No Yoru :
https://gbatemp.net/threads/riivolution-patch-ikenie-no-yoru-english-translation-for-wii-100.561324/
Takt of Magic :
https://gbatemp.net/threads/riivolution-patch-takt-of-magic-english-translation-for-wii.569603/
These can be used on both retail discs (with Riivolution) and isos (
tutorial
provided in the zip files).
Now, Zangeki No Reginleiv is another Wii game that never went outside Japan, which is a shame since the game makes a pretty good use of Wii Motion Plus, a thing few of them did.
It can be played without though, and is loosely based on the Nordic mythology of Ragnarok (a legendary war between gods and giants, including Odin, Thor, and some human heroes like Sigmund).
The game itself, while not having that much text, is compressed AND has a lot of text being actual pictures, which means I have to redo them all before I release my work.
Please find below some early screenshots. I'll keep you inform regularly (as I did with my previous work), and hope you'll find my work satisfactory.
In the meantime, any encouragement is welcome !
See you soon.
Yours truly.