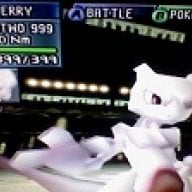 Joined

Apr 21, 2010
Messages

1,034
Trophies

1
Website
XP
Country
just a guess for what a remake of the 3ds would be called since everyones expecting one.

(im not confirming or denying any remake of any sort just a random poll. im also not saying anythings wrong with the current 3DS my 3DS is awesome.

)
a look at previous handheld names.
gameboy, Pocket, Light (Pocket = Pocket sized/small, Light = Light screen)
gameboy Color (Color = Color screen)
gameboy Advance, SP, micro (Advance = Advanced than previous?, SP = SPecial?, micro = small)
DS, DS Lite (DS = Developer System/Dual Screen, DS Lite = Lighter/smaller/brighter screens)
DSi, DSi XL (DSi = UI-fit the user/Camera-eyes, DSi XL = eXtra Large-big)
3DS (3DS = 3D/3 screens/3 cameras)
names guessed based on previous handhelds
.

nintendo 3DS micro (like gameboy micro without smaller screens tho)
nintendo 3DS SP (better screens, better battery, improved 3d, improved cameras, more wireless range)
nintendo 3DS i (better camera)
nintendo 3DS Light (light was used 2 times before, & everyone likes lite so le there be light!!

)
names guessed not using previous handhelds.
nintendo 3DS MACRO (MACRO = bigger)
nintendo 3DS E or enhanced (better screens, better battery, improved 3d, improved camera)
nintendo 3DS G (2g, 3g, 4g enabled prepaid via nintendo points cards?)
lol names

nintendo 3DS 5Ds (yu-gi-oh)
nintendo 3DS UP (kinda like the 1up mushroom from mario)
what are your guesses?

reader submitted names
Super Nintendo 3DS-64
Nintendo 3DS Xtrim
4DS
3DS XL
3DS Flight (flying handheld?



)
3DSnorlax
Nintendo 3ds charged
3DS + or 3DS Plus
3DS 2.0 or 3DS 2.0 beta
6DS