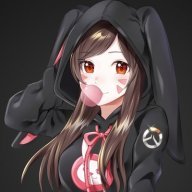 Well-Known Member
OP
Member
Joined

Jan 27, 2015
Messages

5,000
Trophies

0
Location
XP
Country
Server Off

(will change between on and off) - Look here! Server will be back online in a few days!


Ptrk25 has basically taken over the project. I am willing to admit I have done nothing for the past couple weeks. I'm thinking of demoting my self to PR as clearly i am not needed. However, this will give me more time to work on OSU 3DS. I am stepping down. I will still have some form of involvement i just don't know what. I need to take a break, freshen up my skills and tackle my own projects. If you have any further questions please ask Ptrk25. This is to much for me. It was foolish to go into a big project on the start. However, because of that i have also learned so much more then i would of not going in on a big project. I'll be back on the scene in the next couple months. PM me if you have questions about my leave. Thank you all for using my project.

O

fficial

chat rules
Coming soon

™



Currently available
Online chat

Messages got a 29 character length maximum (temporarily)

Usable Interface

Shows messages and a basic keyboard
QWERTY keyboard -since no one wants AZERTY

including numbers
including signs

Connect/disconnect message when someone joins
Usernames before someone can chat
"LIST" command, shows a list of online users
There will be bans (not implemented yet)
- temp ban (Temporary ban on the current project for people like spammers after multiple warnings and multiple kicks)
- local ban (Permanent ban on the current project after multiple temp bans)
- public ban (People that are local banned from multiple projects)
This ban systems only apply to project Tjessx worked on
Update plans
Application content

Online user list
home menu
different chatrooms
drawings
Some more error messages

Official chat clients

Linux
Mac
Windows
iOS
Andriod

Web client
Icon swapping
How to use?
Currently we're still developing pictochat3DS,
This is just an early beta release to test the capabilities of the first server.
The server may crash/restart at any moment.
In the future you'll be able to do much more,
But currently you can just chat using it.
Now that we have clarified that, lets begin.
Download pictochat3DS in the download link below
Unpack your download in the 3DS folder of your SD card.

(location pictochat.3dsx: drive:/3ds/pictochat3DS/pictochat3DS.3dsx)

Boot into the homebrew menu using your favorite method.
Find and start pictochat3DS.
If the server is available it will prompt you for a message to enter your username and press A

(if no message appears, or an error, the server is down, or you don't have internet connection)

You'll get a message that you're connected, and you can send messages using the A button.
Pressing start shutdown pictochat3DS and brings you back to the homebrew menu.
Keep in mind that this is a work in progress please.
Possible errors
please report to me if you get a black screen on boot.
Boot but no messages? server is busy, and has no time for you
Get an actual error message on boot?
Once connected, but you get error messages when trying to send a message?

Server went offline after you connected
You lost internet connection
Server kicked you out for unknown reason

Pictochat3DS crashes at the 501th message

I just don't make more room for messages, i know i should
About custom clients

A lot of people have made their own custom client by now.
Including some of the testers, and the devs.
We've decided that we'll allow this as long as it won't become a problem.
Thanks to VegaRoXas & Chesta, you can find a custom client for windows here:
Pictochat3D custom client
Thanks to Ptrk25, you can find a custom client for windows, mac and linux here:
Pictochat3D custom client
Changelog

Pictochat3D V0.3:
Added arrows to the shift keys and the backspace key
Added menu

Press start to access
Safety measure so that you don't disconnect by accident
Displays online user list

Longer messages! (until 3 lines = 135 signs)
A lot of optimalisation
Pictochat3D V0.2:
Added a new keyboard with numbers, caps, lowercase and characters
Fixed some small bugs
Some future background stuff
Pictochat3D V0.1:
First beta release
sending and receiving messages
Credits

Tjessx - Programmer and Tester
BurningDesire - Programmer and Tester and founder
IhavezmyBirdo - Tester
WhoamI? - Tester
Smea - For making this possible
Icon for release 1 and 2 - If you made the icon please tell me! I forgot your name...
Icon for release 3: link6155
Special thanks to Ptrk25 for the java client, and a lot of feedback
I'm sure I'm forgetting others but thanks to them as well!


Download:
HERE
This will be the final thread - If a mod sees this please merge all the other ones with this