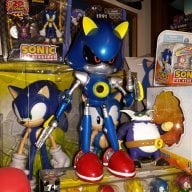 Well-Known Member
OP
Member
I have 3941 MB of free space on my Wii U. I deleted dozens of custom stages and replays. Yet it still says "Not enough free space. Make room by deleting other stages or replay data" when I try to save a new replay, create a new stage or edit an old stage!

I have a 16 GB SD card with only a few snapshots saved to it, and I even have a 1 GB USB plugged in (completely empty) and it still won't let me save anything. I've deleted so many replays, too.

Can anyone help? :S

I deleted Donkey Kong Country: Tropical Freeze, a 10 GB game, leaving me with 14 GB of free space. It still won't let me save anything. Called Nintendo and they were absolutely no help at all. The only thing they could tell me was to bring it in for repair. Can someone shine some light on this weird glitch for me?

EDIT:
I deleted and reinstalled the update data for Smash Wii U, and now it seems I am able to save replays! I still can't create/edit stages, however.
I also notice someone else on the Nintendo help forums has problems like this. Does anyone else have this issue here?