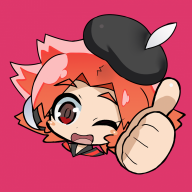 Joined

Apr 23, 2019
Messages

80
Trophies

1
Age

30
Location
Website
XP
Country
Information
Release Date (JP)
: Dec 20, 2012
Genre
: Slice-of-life, magical, Animal Crossing like game.
Link
:
Wikipedia
Translation:

InochiPM
(Looking for translators to help out with the files)
Hacking/Programming:

MasaGratoR (python scripts for dumping and repacking the text)
darkenedforest (Help with the Code.Bin)
NitroTears (Help with the code.bin)
Graphics:

InochiPM
Hey there you guys, dropping in here to reword this post since i'm working on this project more now.
About The Game:
I'm translating Tongari Boushi: Mahou no Machi for the 3DS, and The games files are going smoothly with the exception of the code.bin file.
This game is about you, a young wizard, who comes to the school to become a wizard! (or an idol)
You go around meeting new faces from the previous versions of the games on the DS and with all of the new
content from those games added in (with the exception of the mysteries theres only the seasonal ones now.)
You go on an adventure to become a full fledged wizard, all the while running a shop in the brand new shopping mall.
Go on a grand adventure to become the best wizard or idol in the town!
Recruitment:
As of right now, theres still quite a lot of work to be done on the games files.
I'm diligently working on them as fast as i can but as of right now i'm not working at a fast enough pace at all.
In the main message file theres over 1,369 json files that house the games main texts.
In onemsg however theres over 100,000 entries in the single json file.

Other than the text of the game, the UI text is around 75% translated 55% edited to work properly.

I'm on the lookout for people who can help me break up this work into smaller portions and translate it as we go, as i'm going by the games text i can see when i play the game in tandem with the translations files being open and edited.

Not a really efficient way to translate a game but it gives me context when i see the words on the screen of how they should be oriented haha!

If you would like to help out please join the FTI (fan translators International ) discord server, and from there send me a DM on discord.

Alternatively you can send me a personal message here on GBA temp for my discord and we can work from there.
~ InochiPM