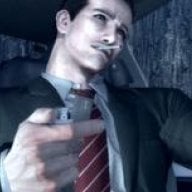 Well-Known Member
OP
Member
Joined

Oct 12, 2010
Messages

352
Trophies

0
Age

36
Website
XP
Country
L.A. NOIRE
Release Date: May 17th, 2011​
NOTE: Special thanks to Sterling for writing the original review. This is only a second opinion. You can read his
here
Now, I know Sterling did a review, but I wanted to put in my two cents. It's gonna be condensed, because I really have exhausted myself talking about this. Now I read Sterling's review, and agree with some of it, but have to respectfully disagree with some of it as well. Rockstar and Team Bondi did a great job recreating the 40's, but didn't grasp the notion of the City of Angels.
It's 1947, and the war has been over for two years. Former marine Cole Phelps is working the beat in LA, when he starts getting the attention from his bosses. You move up the ranks from street to homicide to ad vice to arson, making a name for yourself and getting your face in the paper. Cole is a tough face, but he knows the score. He knows where this is going.
Now, I really liked the scope of LA. It's huge. The map is 8 square miles and will take some time to get from one end to the other. There's...well, not a lot to do, however, and most of the time will be spend going from point A to point B.
Using MotionScan, Bondi and Rockstar were able to capture every single detail of the actor's movements
​
Team Bondi did a great job bringing life to faces. You can see incredibly real and emotional moments when talking to people. But the faces are the only thing that feels real. The models are still warped from an improved Havok engine, and the same type that GTA4 used. Walking feels stoic, and even though the game has a walk assist to push you in the right way, it's not smooth enough to make you forget how bad GTA 4 was.
Every case has it's own little story and the game pumps em out episodically, instead of keeping a clear story throughout the game. Not a bad thing, but by the time a case is over, you might have just started to get emotionally attached, and suddenly you're moving on to the next one. It felt more like solving Scooby-Doo mysteries than catching a dangerous killer. Everyone in LA is a dirty little liar, only a few people actually told the truth. Even though you have the option to choose between truth, a lie or doubt, most of the time you'll be choosing doubt. But I never really felt like my decisions impacted the bigger story, just continued on something.
Another problem that I had is that Phelps was too one-dimensional for me. He didn't even care about his past, and barked at anyone who wanted to know. All he wanted was the truth, even though there were better ways of handling things.
Driving is similar to GTA4, with some better driving mechanics, and damage graphics
​
The game plays off the same routine, and recycles those things over and over. You'll get the call, investigate, interrogate and convict. It played off too much like a police sim and didn't stray from that. Everyone ran, everyone lied, there was no mystery. No shock, just "this guy is obviously guilty." Did everyone lack subtlety in the 40's? Some people flee, some people hide and shoot and some people stay and fight. But there was not enough variety to keep me in it. By the end of the Vice cases, I just didn't care anymore.
The game isn't BAD, by any means, it's a well oiled game that's held back by rinse and repeat performances. I loved how the recreation of LA looked. It was beautiful. The cars, the scenery, the Mise-en-scène really had you believing that this was LA in 1947, no questions. I was impressed with the attention to detail on buildings and cars interior and exterior.
During the homicide cases, you're tasked with tracking down The Black Dhalia killer, which was interesting, but the game needed more call-to-duty missions as the one where you followed Shelley quotes to find the next clue. Just as the game starts to get satisfying, the game gets lost in pick-up missions and witty banter with your partner.
And car AI? Forget it. People didn't know how to drive back then. Everytime you chase someone on the road, you'll get a barrage of cars that will always get in your way. If you want to get a good score at the end of a case by finding all the clues, answering all the questions right and avoiding damage to your car or LA property, you've got to watch your every step, as well as pay attention to every detail. If you don't watch faces, you'll miss important clues that will hurt you in the long run.
Examining dead bodies is the name of the game, it's your interactivity with them that becomes hazy.
​
In short:
WHAT I LIKED
:
- Attention to detail.
- Helpful partners
- Excellent mission structure
- The scenery doesn't mock the Flintstones; LA is packed with rich and exotic locales.
- A very strong start with a fleshed out backstory
- Numerous partners that help piece together a buddy cop story of old.
WHAT I DIDN'T LIKE:
- Rinse and repeat objectives
- No character depth
- Poor AI
- There are only 8 guns in the game. 8! 90 something cars, but 8 guns? Inexcusable.
- Predictable endings
- Hollow narration
- Only 20 levels worth of XP
- Some graphical hiccups
BOTTOM LINE
: I was really looking forward to this game, and the start of it got me hooked. The interrogations are intense, but really don't feel the remorse of the person. There's nothing that makes me want to fight to convict. This game is a must look at for sure, it's one of those games that must be played, but only buy if you want to fully explore what LA has to offer. The only collectables in the game are 13 newspapers that have a side-story, driving all the cars and 50 golden reels. This is kind of a lot, but it feels like there should be more to do. Oh, there are side-missions you can do on dispatch which push the story a little more, but these are small at best. Arrive on scene, shoot bad guy and get your experience. With only 20 levels of XP to work with, there's not much to do after you hit level 20. The game is decently long, with 21 missions and more on the way, there's a lot to do, but if you're bored with doing the same old same old, it might get annoying before finishing the game.
FINAL SCORE:
85/100%