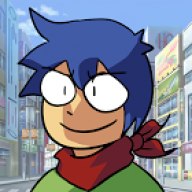 Joined

Jan 3, 2009
Messages

571
Trophies

0
Website
XP
Country
oh wow it's kosheh again and he's working on yet ANOTHER translation. lovely
eh whatever, I don't have as much time as I used to since I now hold a fulltime job (see: Noitora) but I really miss the translation scene and it really wouldn't hurt to try my hand at this stuff again. I need to get fired at work or something, shit
Anyway you guys are probably looking at me wondering why I'm translating this kiddie anime game, and you know what I don't care what you say, here's the story:
yesterday (Halloween) I went to the city with my girlfriend and our first stop was at Videogamesnewyork. Very nice store - if you get the chance, I insist you (and your friends) take a trip there. Real nice. Half the store is like a freaking museum. You wonder how they manage to stockpile all these games.
Anyway, my girlfriend and I are nosing through the DS games, and I recognize most of them, but I see one particularly interesting-looking title. it's got ninjas and everyone's designed like it's a fighter. A pretty good-looking fighter. I asked the store clerks and it turns out it's an adventure game. Disappointed, I keep looking but remember the name of it: Kekkaishi Kukuburou Shuurai. Props to the clerk who helped me out - he had some sort of European accent and looked pretty oldish. I hung out at the store for an hour and talked to one of their new hires for most of the time, my girlfriend absorbing all this stuff and in the end I bought this PS2 -> GCN controller adapter thing. Pretty cool device, but looks fucking enormous. I imagine naruto games will control much nicer.
Anyway I'll be frank, it's the boxart that sold me on this one. I went home, found out the game and went on the internets looking for a uhm, "digital demo" of the game and it's quite an innovative little platformer. Most people will say "urgh, not mario not interested", but this animu geimu is not just any animu geimu. OK, so the premise is you're this boy or girl (icon in top left lets you swap).
You don't use the face buttons to do anything
but only the D-Pad to control your character. The touchscreen is used to hammerspace transparent cubes. This is how you traverse levels and fight enemies. Honestly I didn't get too far, I just went ahead and beat the first level before turning it off. Not game of 2008, but I like the concept a lot. Feels nicer than any Ninja Council I've played and less stale than Bleach 4th Flame Bringer.
However the game is a little hard to pick up if you can't read Japanese. I can read kana but after a while I got tired of reading dialogue and decided to screw around similar to old-school SNES platformers. That didn't work. So I figured I'd translate some menus and maybe the introductory scene where your okamighosts are floating around and demanding you use buttons to move and do stuff.
so i figured i'd do some translation when i had free time, so tl;dr expect slow progress but no worries, you'll see some in the form of screens.
this is kinda like noitora's bakusou dekotora transation: just one of those games that people overlooked, but needs to garner a little overseas attention. It's pretty neat and based off some anime which is probably about drawing more cubes but w/e
lemme go photoshop some screens or something