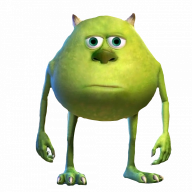 Well-Known Member
OP
Member
Joined

Oct 25, 2019
Messages

259
Trophies

0
Age

19
XP
Country
Hello all!
So yesterday, I got an AV to HDMI adaptor so I could still play my Wii on my new TV which lacks an AV input. I plugged it in and that's all working fine (occasional screen lags and blurs but nothing unplayable). Then, when I tried to boot CTGP-R, it told me my SD Card was locked. 'eh?' I thought, and when I looked at it, the SD Card was totally fucked. I had to pull it out with nail clippers in the end. I'm assuming someone hit or threw the Wii too hard at some stage and jammed the SD into it. That and I've spilled coffee over it a couple times (cleaned it up though).
Anyway, I got a new 32gb SD Card today, copied all my files from the broken SD Card, and bob's your uncle. Worked with no problems. Well, the SD Card slot itself is slightly buggered, but it's loosening up a bit now that I've slid SD Cards in and out of it. I think that was partially why CTGP-R just wasn't having it, and I gave up with it (I deleted jelly.bin like it suggests, but it kept getting stuck when it was trying to apply My Stuff, giving me the message that the SD Card is fucked up which I know it isn't). Luckily I also have riivolution for when CTGP-R decides to not work, so I booted that up and it accepted my new SD Card, and I got my custom shit working.
Then, I remembered that I have a new ISP from the last time I played the Wii. I went to connect it to my new router but for some reason, it just wouldn't pick it up. When I searched for routers, it wouldn't display my one. I know it's not an issue with the broadband because every other device I've connected to it had no problems identifying it. Have I messed something up at some point or is the Wii just too old to support new routers?
Thought I'd mention that I'm with Vodafone fibre optic. Don't know what the model is but it's one from this year since I only got it 3 months ago. My first thought was that the Wii didn't support fibre optic but that makes no sense since many people with fibre optic still play on Wiimmfi. Is it possible that Vodafone has a newer security type (WPA2, those things, can't remember the proper term for them) that the Wii just doesn't know how to connect with?
Thanks for any and all help