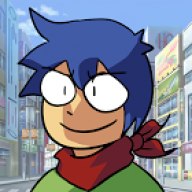 Joined

Jan 3, 2009
Messages

571
Trophies

0
Website
XP
Country
Kidding. x3
I'm pretty cool and I know my way around forums.
Usually I'd say "whoa sup i'm kosheh you know me from somewhere else"
but I guess I don't have that luxury here >:
hello, my name's Kosheh~
I've seen tempers come and go, because I've been lurking for like 2 years and today I finally decided to sign up, because posting in release threads looks like a lot of fun. :
And you've got tempers literally the world over and I was like "This community's awesome! I'm going to sign up!"
also, toni plutonij looks like a pretty cool moderator so I figured I had nothing to lose lol
Anyway, hello hello
I'll post noob questions here and there and stuff
As for my homebrew status, I've got an R4 ;_; and I've been shopping around for another cart. I'm not sure if I should just get one now, or wait until the DSi comes out stateside. I'd rather wait a while before getting a DSi since who knows if they'll be able to block out flashcarts or not. I'll just wait until DSi homebrew stuff gets to around the point of the Wii or the DS before considering one
I've got a Wii, and wiigator etc.

lol, pirating
so I'll upload an avatar and a sig when I feel like it but
yeah