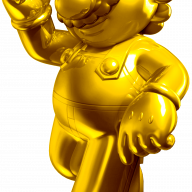 Joined

Aug 24, 2016
Messages

561
Trophies

0
Location
Website
XP
Country
THIS IS A BIG PROBLEM!!!
Here's what: I had a good old MK7 Profile, 15.9 K VR, 40K + Coins, 5000+ Wins, 3 Stars, Everything unlocked, and unbelievable Time Trial Records (not to mention, Rainbow Road: 01:40.279). Just 3 Weeks ago, I installed CTGP-7 on my 3DS by running a custom CTGP-7 romFS through HANS. I broke my Rock Rock Mountain Record by mistake and decided to undo it through a Save Data Restore using Save Manager 3DS Homebrew App. Once it completed 100% Restore, it all of sudden gave some error and the next time I boot MK7, I get this message "The Mario Kart 7 Save Data is corrupted and will now be erased." I was like "What?!!! Really!!! What the heck!!! Shit!!! NOOOOOO!". And then I redid everything, and only things remaining were: Unlock the Gold Standard and Gold Glider; Get 15,900 VR; get 40,000 Coins; and re-do Time Trials!!!! Now whenever I make a New Record, the game crashes and a black screen appears saying "An Error has occured...... and (I can't remember)"! Now I can't even make a RECORD???!!!!
Please, someone please help me and tell me what's up with my MK7 Copy!!! PLEASE!!!
Here's technical details of my 3DS:
Model: New 3DS XL (BLACK USA)
SYSTEM FIRMWARE Version: Ver. 11.0.0-33 U
CFW: None
EmuNAND: None
Homebrew: Yes
*hax payload: 2.7
Hardmod: No
Downgradable: HECK No
Legit CIA Installation: No
Un-Legit CIA Installation: NO WAY!!!
I'm pleeding for help!



(BTW I'm new to GBATemp!)