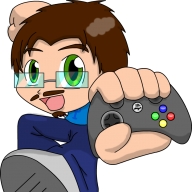 HBC Theme Maker
OP
Member
Joined

Feb 5, 2010
Messages

963
Trophies

0
Age

36
Location
XP
Country
So, a while back I was wanting to see if the EZ Flash-Vi was capable of properly communicating with Wii software. While a simple test with Castlevania: Order of Ecclesia and Castlevania: Judgement was successful, I was still curious if the card was capable of long-term communication with the Wii. The only thing I could think of to properly test this was Batman: The Brave and the Bold. (Henceforth abbreviated as BatB.)
This was a pretty neat test, because I was running the Wii version of BatB through my WODE. (Awesome modchip device, BTW.)
Anyway, with the Wii BatB (US) fired up on the Wii, I loaded the (EU) BatB DS (the only rip available for the DS version). When searching, the DS wouldn't find the Wii, so no connection was possible. I assumed this was because of the region differences. Instead of find the (EU) version of the Wii BatB (I don't trust out of region stuff on my hacked and modded Wii), I tried to find the (US) version of the DS BatB. It wasn't ripped...at all...by anyone. >.<
So, I signed up for a Gamefly trial.

Just yesterday I backed up the DS BatB using NDS Backup Tool Wifi. (Took about 6 hours, but it worked!) The ROM worked just fine.
So, here's the best part. I loaded the DS Version, attempted to connect to the Wii version, and there was my Wii's nickname on the connection screen! I connected on both ends, and IN CAME BATMITE!
My wife and I played an entire level like this, so the connection was maintained just fine. This means that the EZ Flash-Vi has no issues connecting to the Wii!
A long an convoluted process, but worth it for the research. The EZ Flash-Vi just won so many more points for me.

So if more DS and Wii connectivity games come out, EZ Flash-Vi owners aren't lost to the features.