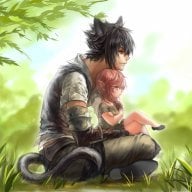 Baby I'm Back ♥
OP
Member
Dragon Quest X: Mezameshi Itsutsu no Shuzoku (Waking of the Five Tribes Online) is coming to Japan on Thursday, August 2 and will retail for 6,980 yen and 8,980 yen for the game bundled with a USB memory card.

If players choose to purchase a stand alone copy of the game, they must have a USB memory stick that has a capacity of 16 GB or greater. To play the game online, users must also have access to broadband internet. The game itself is shipping on two Wii disks and as of right now, it is not clear what content is on the second disk.

Being an online game, the latest entry in the Dragon Quest series has a fee to play online. Purchases can be made via credit card or prepaid Nintendo point cards for 1,000 yen for 30 days, 1,950 yen for 60 days, and 2,900 yen for 90 days. Players can create up to three characters and additionally receive a 20-day free play voucher with their purchase of the game. Square Enix is also setting aside specific times for "kids play," which are periods of time where online play is free and meant for children. However, Square Enix is not setting age restrictions through the software to enforce the special play time.

Control methods in the game are varied as the game supports the Wii Remote and Nunchuck, Classic Controller, Classic Controller Pro, and USB Keyboard. At the moment, there is no solid release date for the Wii U version of Dragon Quest X.
Source:
http://andriasang.com/con0tq/dqx_date/