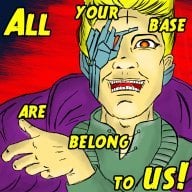 Well-Known Member
OP
Member
Joined

Apr 29, 2014
Messages

490
Trophies

1
Age

42
Website
XP
Country
UPDATE (11.20.2022)
: The Chibi-Robo English translation patch is
available for download!
You can
find the link in the trailer's description on Youtube
.
Thank you all for your patience, I hope you enjoy the game, and if you do, feedbacks are always appreciated!
----------------------------------------------------------------------------------------------------------------
Hello everybody, Brand Newman here, telling you all about my latest "work-in-progress" English translation project for... the Wii (what else?) !
Some of you might have enjoyed my various previous patches, for which I'm providing links at the bottom of this message.
For the time being, let's talk about what's in store for 2022 : Chibi-Robo is a Game Cube game that got a worldwide release but apparently didn't sell that well, making Nintendo keep it exclusive to Japan when they ported it on Wii as part of the "New Play Control!" collection.
As a result, the Game Cube version is now ridiculously expensive, compared to the Wii version which some might argue is better, considering the game was originally meant to be "click and play" anyway.
Some people went into the GC iso to try to find the English translation and put it directly into the Wii version : while it does work to some extend (the two versions share a similar folders structure, and the file names are the same), the pointers are not located at the same place, making the game glitch, or even freeze at certain points.
So I decided we needed a proper translation, and went into the files myself, comparing the Japanese script of the Wii version and the official translation from the GC.
Turns out that some things got "lost in translation" (Daddy pun totally intended), others were added for the sake of clarity, and of course I'll have the issue of rephrasing in order for the text to "squeeze" into what room the Japanese game leaves you.
So please be aware the upcoming Riivolution patch will not be a 1:1 version of the Japanese or localized text, but instead a "mix" of the two.
Please find below a little video of the intro that is already done
, and stay tuned in 2022 for me to give you news!
Yours truly.
Chibi-Robo introduction video in English for the Wii
My previous project, all available on RomHacking.net (download links on the video descriptions):