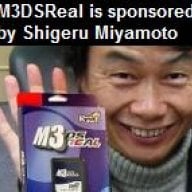 Active Member
OP
Newcomer
Well, it´s basically a variation of the Flashcart OS method...Works pretty well!
Here's a video:
Youtube
INSTRUCTIONS:
1.-Just download one of this files:
a.)

DSOrganize 3.1129 for M3Sakura
(
RECOMMENDED!!
version, no damages, no red screens, personally tested!)
b.)

DSOrganize 3.2 for M3 Sakura
(Last version but
not recommended (unstable)
. Use at your own risk)
1.-Extract the contents of the
SOrganize for M3Sakura: folder to the root of your microsd card(see readme.txt). As simple as that!!!!!!!!! Run DSOrganize.nds and ENJOY!!! That's all you have to do!!!
You can also edit the bottom.gif and top.gif however you want

--------------------------------------------------------------------------------------------------------------------------------------------------------------------------------------------------