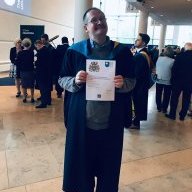 Philosolosophising
OP
Former Staff
Ok, so this was tried once before but the response was completely underwhelming but us 'tempers don't go down without a fight! So we're gonna try this once again! As an added segment to the Tempcast we're going to be a adding an audio KYT session. If it takes off it should become a regular thing.

Before everyone rushes to sign up and say "Me me" we need to make sure that people are actually going to bother contributing questions. When we did this last time Xcali was in the spotlight but only one question was asked. That's right ONE question! There are people who signed up late for the last KYT season so the first person in the audio sessions will be one of them.

The way I envisage it happening is for you to record one or two questions that you'd like to ask the person in the spotlight and then you send them to me and I will then pass them on to the person in question. They can then record their answers and send them back. A little bit of editing and hey presto, we have an audio KYT session!

So would 'tempers be up for something like this?