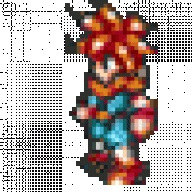 Joined

Jul 5, 2006
Messages

293
Trophies

0
Website
XP
Country
This is a topic pleading for you all of you who are too afraid to try something new, to try out the wii remote and nunchuk controller configuration. Most of you have played with the GCN controller for a very long time, and that's great, but you should see what else is out there. I've really taken a liking to the nunchuk setup, and I'm pretty sure I can do anything the GCN controller can do, maybe even better. Especially now that the B button isn't so far from X so that aerial B can be done quicker, as well as very easy shorthopping.
Changes to default I made:
-Turn off UP to jump, blah
-Change Down to Grab. Either shield+atk or down works fine to grab, this game is much slower so it doesn't make too much of a difference IMO.
In fact, the game being slower facilitates the freedom and usability of the wii remote and nunchuk, if it were Melee it would NEVER work obviously, but it feels very nice in this game.
Also, C-stick is for noobs

If it turns out that it's really not for noobs, well, maybe i'll have to get a Classic controller. How is that controller, anyway? Bottom - jump, left - reg atk, up - spec atk, right - grab, that's what i hear is a good config. but does it play well...