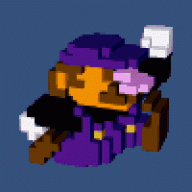 Joined

Mar 22, 2008
Messages

3,456
Trophies

1
Location
Website
XP
Country
So, some would remember this interview with Charles Martinet
Voice of Mario Wants A Waluigi-Centric Game
Mario's name has appeared on the cover of hundreds of games. His brother, Luigi, has even stepped into the spotlight with his own title, "Luigi's Mansion." Even Mario's fattest foe, Wario, has two separate series that bear his name, the long running "WarioWare" mini-game collections, and the under-appreciated "Wario Land" games. However, the man that voices all of these characters would love to see another, even more rotten member of the Mushroom Kingdom take center stage for once: Waluigi.
Speaking to me last week at an exclusive pre-release "Super Mario Galaxy 2" gathering for Club Nintendo members at the Nintendo World Store, Charles Martinet told me that, although Mario is his favorite Nintendo character, he also loves Luigi and Waluigi. Going so far as to say that he'd "love to see a Waluigi game where you have to cheat to win, ya know. That would be funny." He continued, in Waluigi's voice, saying, "Waaa Everybody's cheating but me!"
Best known as Wario's lanky accomplice, Waluigi getting his own game might be a bit of a long shot. While it isn't unprecedented for Nintendo to release games that don't star plumbers (see: "Super Princess Peach"), one would hope that Bowser might be able to land his own title first. The closest he's gotten was a shared stage with M&L in "Bowser's Inside Story.
Source
It got me thinking. How about a 2D platformer where it's the main 4 (Mario, Luigi, Wario, Waluigi) and it's a race to the end in most matches. You play as Waluigi. Throughout the whole match though, Waluigi can never make it to first place to reach the goal first. So before each race, you have to place traps at random spots throughout the level, and then during the race you travel between the foreground and the background in order to activate these traps and slow your opponent. Thus you can get Waluigi to the goal first.
It works I guess. It has cheating and Waluigi as the main character. What more could you want?
I'm still working on the story though. Will edit this post with my result.
Opinions?