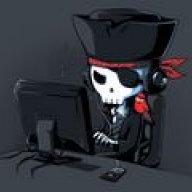 Bringer of Freedom
OP
Member
Joined

Mar 10, 2014
Messages

455
Trophies

0
Age

29
Location
XP
Country
Well as the title says i want to upgrade my pc with a budget of £400, so heres the specs.
so far i have decided on;
hyper evo 212 cooler +extra fan
what i need is a modular psu, ivy bridge cpu upgrade and case recomendation.
thanks for all the help so far!
------------op--------------------
mobo: gigabyte z77-d3h
cpu: i5 3570k
[email protected]
4ghz
cpu cooler: standard intel cooler
psu: generic - dont kill me!
ram: 8gb 2x4gb stcks @1600mhz
graphics: geforce gtx 970
sound: sound blaster x-fi
case: some junk generic one
case fans: 0 - open case atm
hdd: i have a total of 1.75tb, 1tb, 500gb and 250gb
display: 23" dell - I really want a 3 screen setup!
so what could i do to enhance my pc, what would you guys recommend?
i am happy with my 970 card and cpu for now.