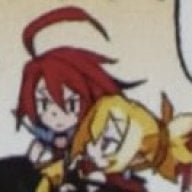 Captain Ressentiment himself
OP
Member
OFFICIAL SITE
OFFICIAL FACEBOOK PAGE
Now that Theatrhythm Final Fantasy has been announced for the US, I though I might do a little preview of the game.
SERIES PLAY
As seen in the screenshot above, this game will feature songs from Final Fantasy I through XIII, with DLC songs being released regularly in Japan.(No word on whether the US version will have something similar) For every numbered Final Fantasy there is the game's opening song(to start the game), a battle song(self explanatory), a field song(also self explanatory) an ending song(funny how self explanatory these are
) and one event song. For example for, Final Fantasy V: Ahead on our Way is the opening song,Four Hearts is the field song, Battle on the Big Bridge is the battle song, Home, Sweet Home is the event song and The New Origin is the ending song. Your party can consist of any of the heroes from FFs I-XIII plus some bonus characters that can be unlocked.
BATTLE MUSIC
Above is a screenshot of a battle song. The purpose is to tap in time with the circles, which can come as simple taps or slashing in a direction or even holding the stylus down for a certain amount of time.(The taps can be anywhere on the touch screen,they go towards different party members to confuse players) Your health goes down when you miss a tap,and your tap is rated Critical!,Great,Good,Bad, or Miss depending on your accuracy. Enemies are random, but they will always be from the game of the song that is playing(The 4 Archfiends from FFIV only appear in an FFIV battle song ect.) and they change after a certain amount of time. Summons can also be used under certain conditions.
FIELD MUSIC
In field songs, the mechanics are basically the same as a battle song, except you can move the circle up and down now for certain taps. The background is also represents the song that is playing. In this case, the song is 'The Sunleth Waterscape' from Final Fantasy XIII, so the background shows the Sunleth Waterscape.
EVENT MUSIC
In an event song, a memerable and important song from the game plays while the game's most memorable scenes play in the background. In this screenshot, Final Fantasy X's event song,Suketi da Ne, is playing, and as it's playing, scenes from FFX play in the background, During this music, your circle runs along a line and all the taps are along it. This type of music also demands the highest accuracy for taps.
CONFIRMED PLAYABLE CHARACTERS
Final Fantasy
Warrior of Light (Knight attire)
Princess Sarah
Final Fantasy II
Final Fantasy III
Final Fantasy IV
Cecil Harvey (Paladin attire)
Rydia (Child)
Kain Highwind
Final Fantasy V
Bartz Klauser
Faris Scherwiz
Final Fantasy VI
Terra Branford
Locke Cole
Final Fantasy VII
Cloud Strife
Aerith Gainsborough
Sephiroth
FInal Fantasy VIII
Squall Leonhart
Seifer Almasy
Final Fantasy IX
Zidane Tribal
Vivi Orunitia
Final Fantasy X
Final Fantasy XI
FInal Fantasy XII
Final Fantasy XIII
Dissidia Final Fantasy
CONFIRMED SONGS
All songs are their original versions
Normal songs are unlocked from the beginning,Hidden have to be unlocked, and DLC are DLC
Final Fantasy
Main Theme [Field,Normal]
Gurgan Volcano [Field,Hidden]
Matoya's Cave [Field,DLC]
Battle Scene [Battle,Normal]
Chaos Shrine [Battle,Hidden]
Opening Theme [Event Music]
Prelude [Opening Theme]
Ending Theme [Ending Theme]
Cornelia Castle [???.Hidden]
Final Fantasy II
Main Theme [Field,Normal]
Dungeon [Field,Hidden]
Battle Scene 2 [Battle,Normal]
Battle Scene 1 [Battle,Hidden]
The Rebel Army [Event Music]
Prelude [Opening Theme]
Finale [Ending Theme]
Final Fantasy III
Eternal Wind [Field,Normal]
Battle 2 [Battle,Normal]
Battle 1 [Battle,DLC]
Elia, The Maiden of Water [Event Music]
Prelude [Opening Theme]
Ending Theme [Ending Theme]
Return of the Warrior [???,Hidden]
Final Fantasy IV
Main Theme of Final Fantasy IV [Field,Normal]
Within the Giant [Field,DLC]
Battle with the Four Fiends [Battle,Normal]
Battle 2 [Battle,Hidden]
The Final Battle [Battle,DLC]
Theme of Love [Event Music]
Prelude [Opening Theme]
Finale [Ending Theme]
Final Fantasy V
Four Hearts [Field,Normal]
Mambo de Chocobo [Field,Hidden]
In Search of Light [Field,DLC]
Battle on the Big Bridge [Battle,Normal]
The Final Battle [Battle,DLC]
Home, Sweet Home [Event Music]
Ahead on our Way [Opening Theme]
The New Origin [Ending Theme]
Final Fantasy VI
Terra's Theme [Field,Normal]
Searching for Friends [Field, Hidden]
The Decisive Battle [Battle,Normal]
The Fierce Battle [Battle,Hidden]
Dancing Mad [Battle,Hidden]
Celes' Theme [Event Music]
Omen [Opening Theme]
Ending Theme [Ending Theme]
Final Fantasy VII
Main Theme of Final Fantasy VII [Field,Normal]
Judgement Day [Field,Hidden]
Cosmo Canyon [Field,DLC]
One-Winged Angel [Battle,Normal]
J-E-N-O-V-A [Battle,Hidden]
Those Who Fight [Battle, DLC]
Aerith's Theme [Event Music]
Prelude [Opening Theme]
Staff Roll [Ending Theme]
Final Fantasy VII
Blue Fields [Field, Normal]
Ride On [Field,Hidden]
The Man with the Machine Gun [Battle,Normal]
Waltz for the Moon [Event Music]
Overture [Opening Theme]
Eyes on Me [Ending Theme]
Final Fantasy IX
Over the Hills [Field,Normal]
Something to Protect [Field,Hidden]
Battle 1[Battle,Normal]
Beyond the Door [Event Music]
The Place I'll Return to Someday [Opening Theme]
Melodies of Life [Ending Theme]
Final Fantasy X
Mi'ihen Highroad [Field, Normal]
A Fleeting Dream [Field,DLC]
Seymour Battle [Battle, Normal]
Suketi da ne [Event Music]
To Zanarkand [Opening Theme]
Suketi da ne -Orchestral Version- [Ending Theme]
Final Fantasy XI
Ronfaure [Field,Normal]
Awakening[Battle,Normal]
Fighters of the Crystal [Battle,Hidden]
Final Fantasy XI Opening Theme [Event Song]
Vana'diel March [Opening Theme]
Vana'diel March #2 [Ending Theme]
Final Fantasy XII
Giza Plains [Field,Normal]
The Dalmasca Estersand [Field, DLC]
Clash of Swords [Battle,Normal]
Theme of the Empire [Event Music]
FINAL FANTASY ~FFXII Version~ [Opening Theme]
Ending Movie [Ending Theme]
Final Fantasy XIII
The Sunleth Waterscape [Field,Normal]
The Archylte Steppe [Field,DLC]
Saber's Edge [Battle,Normal]
Blinded by Light [Battle,Hidden]
Fighting Fate [Battle,DLC]
Defiers of Fate [Event Music]
FINAL FANTASY XIII ~The Promise~ [Opening Theme]
Ending Credits [Ending Theme]
Final Fantasy XIII-2
Knight of the Goddess [Battle,DLC]
Final Fantasy Type-0