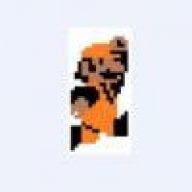 Well-Known Member
OP
Newcomer
Joined

Mar 26, 2012
Messages

81
Trophies

0
Age

22
XP
Country
Hello! I am happy to tell you a "hack" of Super Mario War that may interest you. A custom character was created. I called him HexBox. Really, he was supposed to be a box. He didn't turn out so good, however. It is very hard. Here are the steps.
1) Look in the folder where you put the game and files. Go to the folder called "gfx" and then click on the folder called "skins". (The folders are not to be modified.)
2) Copy one of the pictures of characters and paste it on your desktop.
3)Rename the copy. It should be named like this: yourname_charactername
4)Open it in Paint (for Mac or Linux users: any program that edits bitmap)
5) Examine the picture. Take a look at it and see how it is to be mapped. (The order is: walk facing right, jump, sliding *Turning while running causes you to slide.*
Lose a life *When it dies.* Last and not least, getting squished *Should be flat figure.*
6)Take out the pictures of the character you copied (use select tool) Skip the step if you are EDITING the character. Make sure the background is a hot pink.
7) Fill in the white spots left. Use the dropper tool to copy the hot pink color before.
8) Draw a character. Remember the order it should be? Make sure you make the picture of that too.
9) You're done with the picture! Put the picture back into the \gfx\skins folder. Make sure the name of the picture is formatted like step 3. Mine is jaron_HexBox
10) Open Super Mario War. In the character selection screen, find the name of the character you made. It should be "charactername" step 3. I'd look for HexBox. Enjoy your character! Tell friends about it!
Characters MAY not come out the way you want it, so don't threaten me about your deformed creation.