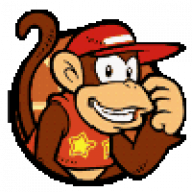 Joined

Dec 2, 2008
Messages

17
Trophies

0
Website
XP
Country
Super Smash Bros Rumble Demo 0.7 is now released! Brought you you by the coders, Neeher, Diddy, and PS991, the new features include:
8 new stages, 10 new characters, unlockables, credits(on the vault screen), double jump(some characters can jump more than 2), pause, run (double tap the D-Pad), side collision, new graphics, some new character sprites (Olimar, Geno) and a CPU! (Btw, to leave a match, pause and then press select).
Since you only start out with a few characters in the beginning, you will have to unlock the rest by exploring the features mentioned above (HINT HINT!). There is only a max of 31 characters that can be unlocked and the rest will remain locked, so don't freak out and spend hours trying to unlock them all.
New stages include:
Battlefield
Treetop Town
Kamek Castle
Delfino Plaza
Brinstar
Hachiko
Jungle Japes
The Beginning
PROBLEMS:
The cpu is really glitchy right now, If you have one on the screen, it will mess with player 1's jump. Also, the cpu tends to fall through the floor and teleport about the stage. This is not permanent and we only included a cpu in this demo to show you, the fans, that the coders are only a few errors away from having a functioning cpu.
Because of the enormous file size, music has not been included in this demo. Do not think that your speakers are broken.
If you are playing on an emulator, you will not be able to save the characters that you have unlocked. On the DS, however, you can save the unlockables.
Also, just to clarify: Even though this says "Demo 0.7", this is only our second demo. Neeher, Ps991 and I picked up the project at demo 0.5. We are not responsible for such a limited demo with such a high number on it. Think of this as demo 0.2.
Read the entire post before playing please!
Download from the Blog
Glitches Thread