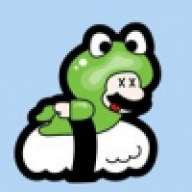 Joined

Nov 8, 2007
Messages

185
Trophies

0
Age

35
Website
XP
Country
well i got the DL ssbb, and 3 different burns

all using verbatim dvd+r 2.4x Singapore and all brick blocked all using Image Burn.

1fst x2.4 runs ok in most modes except will get Japaneses green text letters when videos and other things play
2nd x1 slightly smoother videos but often get the same error just shortly after it normally would play
randomly after booting up the wii after not playing it for a given time it would play flawlessly for a few hours before another error came up, and then all the normal places errors happend would come back.(beginning of where im thinking my lazer is dieing)

3rd burn, so i read about good burners help so i just bought a LG GH20ms10 and burned at x2.4 much better now had no errors for a good solid play time then im starting to get them again durring one of the movies, which makes me wonder if its because iv been playing it for the last 3 hours and the laser is getting weaker as i play? or is just because the burner is still not good enough to get a perfect burn.

so questions, what do i try next? a even better burner? a different burning program?a different speed? (x1-x6) running out of disks... also i've cleaned the wii with compressed air too... IF i was to take it apart is their anything i can easily do inside?


PLEASE HELP!